Are you going out? Or planning a trip or planning a picnic with your friends and family? Well, I know, everyone loves trips! But a minor weather change can ruin your entire trip. Isn't it? To escape this problem, here I'm introducing an amazing app; 1weather app by which you can check the weather on your mobile.
1weather is a weather forecast application just like Accuweather that you can use to check the weather on your Android screen with just one glance. The app provides a weather forecast anywhere in the world, with forecasts up to a week in advance, so you'll have plenty of time to customize your plans for rain or sun.
1weather always checks the weather wherever you are at that moment, so unless you have given the app permission to access your location.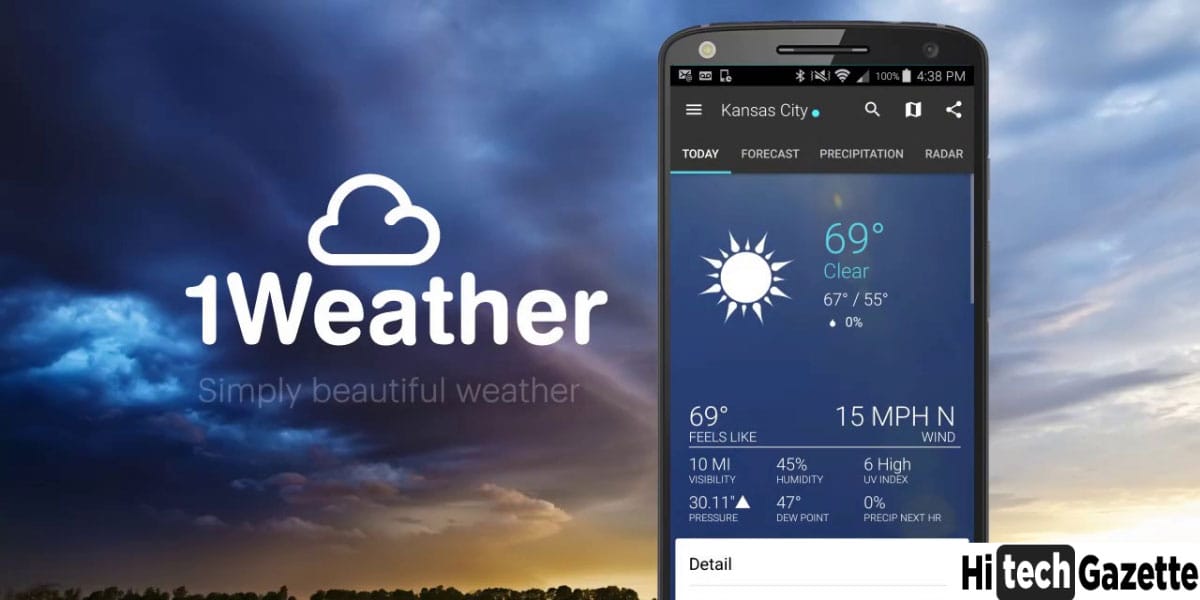 The Best Part Of Using The 1Weather App
One of the best parts of the application is its attractive widget, which will refresh your home screen as well as give you minute information without having to turn on your phone. You can see humidity index, local map with estimates of rainfall, and more.
All of this is packaged in a beautiful interface designed specifically for touch screen devices.
1weather is a useful tool for any user, but those of you who like to travel or do a lot of outdoor activity will find the necessary application for day to day use. 
Super Exciting Features Of 1Weather
While there are some great weather apps, 1weather stands out as a great example. It is available on both iOS and Android, and provides the following features:
The app provides real-time weather information for millions of locations worldwide.
You can get hourly, detailed, and extended forecasts.
If you are traveling, the app can give weather updates based on your location.
In the USA, app users can view a live animated radar for extreme weather layers and warnings. Users in the US can also receive alerts for severe weather.
The app provides easy-to-read weather graphs.
You can get information about cloud cover, sunrise, sunset, etc.
Users can add multiple locations, for which they need weather updates quickly.
The app allows users to share weather information on social media.
The app also has widgets specifically for both Android and iOS users.
It also offers in-app purchases, in addition, it has both free and premium versions.
Do you want more customization and if you are android users, you might look at the features of intellicast app too.
However, as far as our expectation are considered regarding weather app, 1Weather does great and to understand it, we can rely on 50 Million+ downloads with 4.5 star rating. Isn't that great? Try now…
From Where to Download 1Weather App?
for Android users, Download it from Google Play Store
If you are an iOS user, Download it from App Store
In adverse weather conditions, sometimes it goes hard to wake up early in the morning and that's why here we are with 3 best free alarm clock app to get you out of bed.
General Review of 1Weather App
The Android application is developed by OneLouder, the people responsible for popular apps like Friendcaster, Tweetcaster, and BaconReader.
To start with, you must first add at least one location to the app. This happens automatically when you turn on location-based services, or manually if you don't. You can easily add here many places for which you want to get weather information
To do this, simply enter a zip code, and select a location from the search results. The main interface later displays the weather information most relevant to you. Here you get the current temperature, felt temperature, rainfall, humidity, dew point temperature, or barometer data as well as a background image that is based on current weather conditions. 
Read more: Is Zedge Safe & Free to Use for Downloading Ringtones & Wallpaper 
Conclusion
1Weather is one of the cleanest weather apps for Android. It all boils to your needs, but in my opinion, this application leaves very little to be desired. Definitely, one to check if you are shopping for a new weather app for your Android device.
Frequently Asked Questions
What is the 1weather app?
1weather is one of the best weather apps for Android. It offers three attractive options for screen widgets so you can see the weather report without opening the app. Free for Android devices. A 1weather premium version that removes ads is available for $1.99.
Where does 1weather get its data from?
1weather seems to receive most of its data from the National Weather Service. Weather Underground also comes from the same source but extends it with data from thousands of home weather stations and even user reports. 1weather looks good to everyone, and overall it is successful.
What is the No.1 weather app?
Weather Channel is the most famous weather updating network in the world. Their Android app has all the best features you'd expect. Extended forecasts, current conditions, live radar maps, storm alerts, and everything you ever want to know about the weather.
How accurate is 1weather?
A seven-day forecast can accurately estimate about 80 per cent of the time the weather and a five-day forecast can accurately estimate about 90 per cent of the time of the weather. However, the forecast for 10-day or more is correct only for half the time.