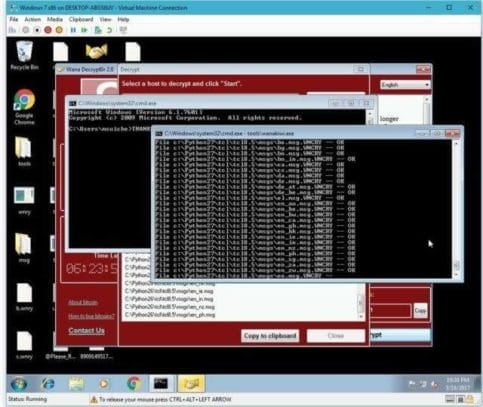 As you may have heard, there is a rather nasty malware called WannaCry that encrypts the hard disk of your PC when it infects you, and you cannot recover your data unless you pay for the key to decrypt the data.
Just over a week ago thousands of computers around the world were infected by the ransomware WannaCry or WannaCrypt, able to hijack the files of up to 220,000 computers from large companies asking for an economic rescue in exchange for free their data. However, some companies have decided to pay the ransom and others have refused.
Now it seems that there is a tool that can recover the PCs infected by WannaCry at no cost. This tool is known as Wanakiwi which is based on WannaKey, another tool that we have mentioned before. However, this is an evolved version.
Matt Suiche, co-founder of security company Comae Technologies, has helped develop this tool that works on Windows XP, Windows 7, and Windows 2003. It is also believed to work on other versions such as Vista, Server 2008, and 2008 R2. As for computers with x64 CPUs, it seems that the tool has not yet been tested sufficiently, so there is no guarantee that it will work.
Unfortunately if you have been infected and you have already turned off your computer, it is quite likely that WanaKiwi will not work for you. It is generally recommended that if you have been infected by a ransomware, do not turn off the computer until you find a solution on the network because if you do not change the initial values of the encryption then it is gets very difficult to recover the files.
Wanakiwi is not an infallible tool as there are computers that have been restarted but cannot be recovered and others in which the memory area, where the key is stored, has been overwritten.