Clash of Clans, or COC, is a popular online multiplayer strategy video game set in a fantasy world. In the game, players come together to form clans and cities. They work on creating and training troops to defend these cities from invading armies of other clans. But the troops are not only meant to defend. They also attack the troops of other players and try to invade their cities. The goal is to plunder resources from these other clans to grow your cities faster than others.
The gameplay can be improved a lot by customizing some aspects of the game. For example, many players like to add their own new troops to Clash of Clans (COC). They use tools like COC Troop creator and COC troop editor to create a COC troop. Many fans have created their own COC Troop maker to help such players.
One of the most commonly used COC troop makers is the Clash of Clans Troop Creator available here. Let us today try to create our own troop by using this COC troop editor.
Let's say we want to create a new fire-breathing dragon troop named Dinosaur. How would we move ahead with this?
See More: Hacked Clash of Clans
Creating Your own New Troop Using COC Troop Creator
Here is a step by step guide for creating your own new troop in Clash of Clans using the COC Troop creator.
1) Go to this link.
You will find the below screen on a desktop. The link opens a website called Clash of Clans Troop Creator.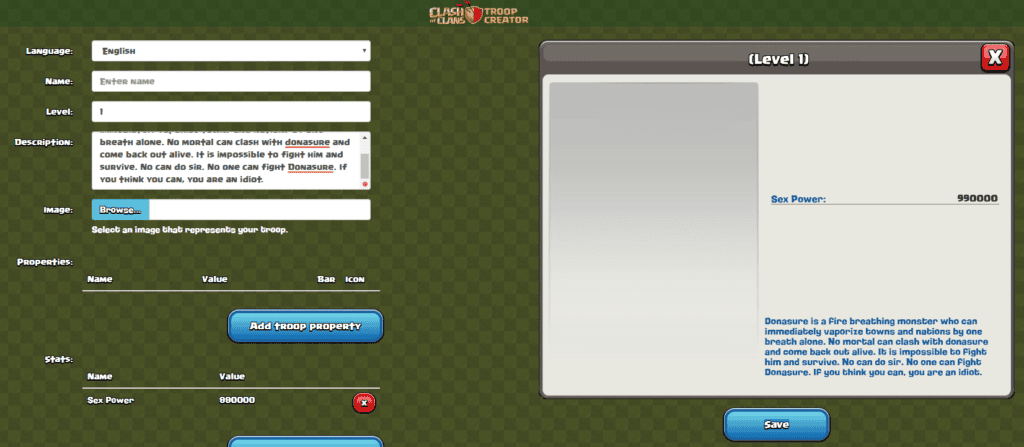 On mobile, you will find similar description boxes but the troop card will be available at the bottom of the description boxes.
Describe your troop
2) On the left side, you can see the description boxes. Start by selecting the language you want to work in. The default language set in this troop maker is English.
3) Fill out the name. You can write any name for the new troop you are creating. Have fun.
4) Give the troop a level. Most players would obviously want to go with level 1.
5) Next, fill the description box. You can describe your troop in this box. Be as descriptive as you want to be. The description box allows you enough space to freely describe your creation.
Showing the world how your troop looks like
6) Next, in the image box, you need to add an image for this troop. If you have an artwork for your troop, that's great. Otherwise, you can use google to find the best image for your new troop. Download the image you find suits your troop best. Then click on browse on the COC troop editor website and select the downloaded image.
7) The COC troop editor will give you an option to crop the image. If there are other unnecessary items in the image, you can crop it.
Adding Properties in the COC Troop Creator
8) The next step is to define the properties of the troop. This can be done by clicking on the Add Troop Property button. For example, to our fire-breathing dragon troop, we can add the property of damage per second by fire. Then we can give it a value of, say 300. Then select the appropriate DPS icon on the third box. Finally, click on Add to add this property to your newly created troop.
9) You need to give few more properties to your troop. Damage per second, hitpoints, amount of time it takes to create your troop, the training cost to train one troop, etc. This is what will truly give character to your troop. Without these powerful stats to back it, our dragon is just an image.
10) Finally, you will add Troop stats. You can add stats such as damage type, favorite mode of attack, favorite target, housing space required, movement speed of the troop, etc. Add as many stats as you feel are necessary to define your character.
Saving your new troop
11) We are nearly done. Click on the save button to finish saving your troop. If you are using your mobile, the save button can be found near the bottom of the page. On laptop or desktop, this button will be on the right side.
And that's it. This is the step by step guide for creating your own new troop in Clash of Clans by using COC troop creator. This COC troop maker has been used by thousands to create their own troops. Proudly share your result with your buddies and see who has got the best new Clash of Clans troop.
What do you think about this guide? Do you know of a better or quicker way to create a new troop? Is there something we missed? Do share your experience using this guide. If you face any problems, let us know. If you loved the guide, like and share it with your friends using the social media sharing buttons below.
See Related Article: Strategies To Defeat Clash of Clans