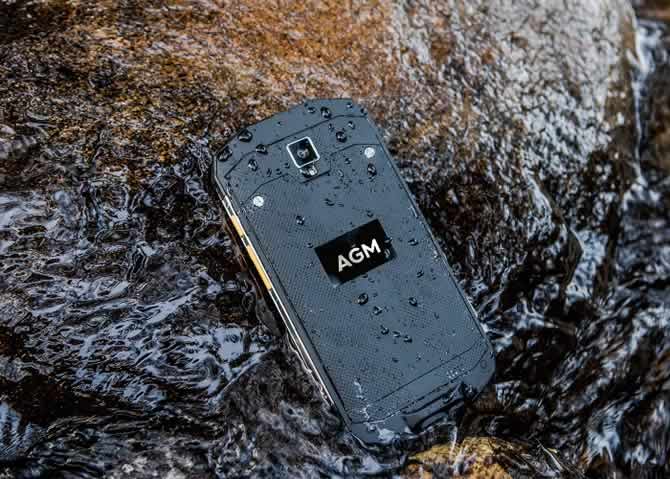 Luckily for all of us, Android is present in a multitude of devices of all types, sizes and prices. While one may want a nice handset on the outside, another may prefer a larger than average screen, while another just needs a basic phone to be able to speak on WhatsApp with their friends.
There are also those who want a phone that is very resistant, withstands blows, dust and especially water. All these features are present in AGM A8, a device that is not only powerful on the outside, also powerful on the inside.
AGM A8: features and technical specifications
The first thing we notice when we see AGM A8 is that we are not dealing with a conventional smartphone. The model does not seek to be the thinnest and lightest in the market, neither the most beautiful nor the most premium, it is best if what you are looking for is resistance, be the toughest and resist the most extreme conditions.
Not in vain, we find a waterproof phone up to a depth of 1.2 meters (IP 68), in addition to resisting dust and water up to one and a half meters high. Also, and this is difficult to find in other phones on the market, the AGM A8 withstands extreme temperatures from -40 degrees to 80 degrees, making it perfect for taking you to the most extreme conditions.
Regarding its hardware, we have a Qualcomm Snapdragon 410 processor, 3 GB of RAM, 32 GB of storage expandable by microSD and a fabulous battery of 4,050. As for other sections, we find a 5-inch screen with HD resolution, a 13 megapixel rear camera, Android 7.0 as well as NFC and fingerprint reader, something that really is appreciated.
It is a smartphone that despite its external hardness, has quite decent features – something that terminals of this type do not usually have, and therefore a performance more than affordable to be able to make use of any application and game that we can download In Google Play, without fail, without crashes and without any lag.
An excellent phone for those who work in extreme conditions or travel to the hardest corners of the planet, who need a smartphone that can withstand everything but at the same time has a performance more than acceptable.