Right now there are not many manufacturers that are committed to making low end terminals that are of quality, and to realize this you have only to try a phone that is worth less than $120. You will not be surprised by its fluidity and design.
As we told you recently, it seems that Lenovo will soon launch the Moto E4 and the Moto E4 Plus to try to monopolize the low range in Android, something that does not seem very difficult.
The leaks from OnLeaks about the Moto E4 Plus are very similar to those of the Moto Z2 we have already talked about, and from these we can get some details about the terminal.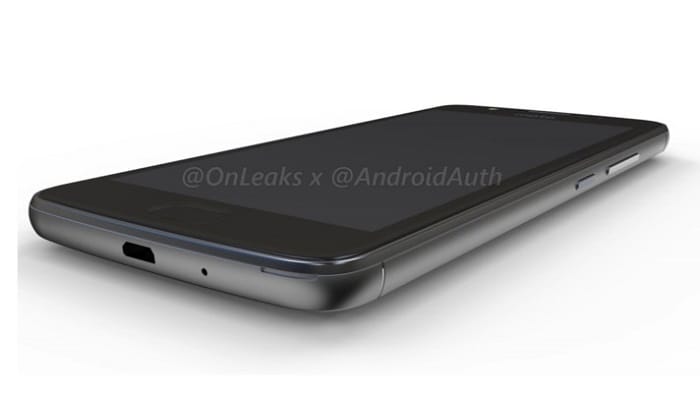 First, we can see how the 3.5 mm jack would stay on top of the phone, similar to many phones. Although, on many occasions, placing this port at the bottom is very useful and quite aesthetic.
The charging port, in this case would be the Micro USB, is at the bottom. Something that is a little disappointing, because at this point, we expected a USB Type C even in a low end terminal because it has many advantages over this Micro USB.
The fingerprint reader with this Moto E4 Plus would be located on the front of the screen and next to its front camera a front flash can be seen. Something that is quite good due to the low quality of its camera.
The rest of its buttons would be found on its right side and the ignition would differ from the volume thanks to its rough texture. A detail that is appreciated.
If we turn the phone, we find a design very similar to the Moto G5, with the difference that in the Moto E4 Plus the speaker would be located at the rear. Something that makes the design worse, but at the functional level is more useful, since it is harder to cover it while holding the smartphone, which is the big problem of the speakers.
The terminal seems to be made of metallic materials, although at this point it is difficult to predict. Its thickness would be around 9.3 mm, a bit exaggerated, but completely understandable if it incorporates a battery of 5.000 mAh, as discussed in most leaks.
As we told you the other day, we would find a MediaTek processor along with 1 GB of RAM. On the other hand, its screen would be 5 inches at 480 × 854 resolution and its internal storage would be 16 GB. The resolution of its cameras would stay at 5 megapixels for the rear and 2 megapixels for the front.
Poor hardware, but if you think about it, the software-level optimization of their handsets gives them an extra fluency that the end user values a lot. It is here where these Moto E differ from the rest of low ranges.