Samsung launched the deployment of Android 7.0 Nougat last month, starting with the Samsung Galaxy S7 and the Galaxy S7 Edge. Although the update has not arrived in our country in an "informal" way, today we already know the complete list of phones of the firm that could receive the software update, and we find surprises as striking as the Samsung Galaxy J5 and J7.
Now, Samsung Turkey has published a detailed roadmap for the deployment of Nougat across the Galaxy range, including smartphones and tablets, for the rest of 2017. According to leaks appearing on the Net last week, we know that Android Nougat will arrive in the Galaxy S6 and S6 Edge later this month, while the S6 Edge Plus will have to wait until mid-March.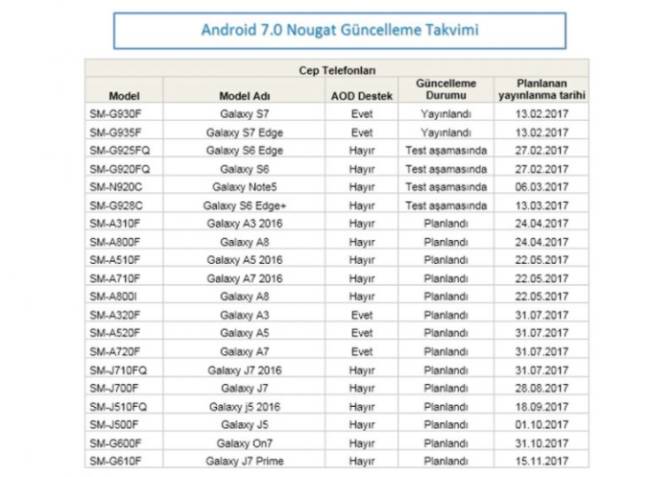 At first we knew that in addition to the Samsung Galaxy S7 and Galaxy S7 Plus, and bypassing the Samsung Galaxy J5 and J7 of 2017 for obvious reasons, the rest of models will be updated with Android 7.0. Then we mentioned the Samsung Galaxy S6 and Galaxy S6 Edge, the Samsung S6 Edge Plus, the Samsung Galaxy Note 5, the Samsung Galaxy A3 and the Samsung Galaxy A8 will also be updated to Android 7.0 Nougat. However, the above mentioned list reveals that the Galaxy A range will also receive the latest operating system from Google and, most importantly, all Samsung Galaxy J5 and J7 (in addition to the Samsung Galaxy J7 Prime).
Of course, we can not forget that this sheet applies solely and specifically to Turkey, so it is unlikely that these exact dates will apply to all markets where the Samsung Galaxy J5 and J7 are marketed in addition to the Galaxy A range smartphones. That is why, at least in our country, we must wait for official company news.
However, with the calendar of dates of Android 7.0 update for Samsung Turkey at least, we can know what devices we can expect to be updated to Android 7.0 in the coming months.
What is striking is that, the latest version of the operating system reaches the mid and high range of the company. The new OS also reaches smartphones with more than two years of life, such as the Samsung Galaxy J5 and J7.