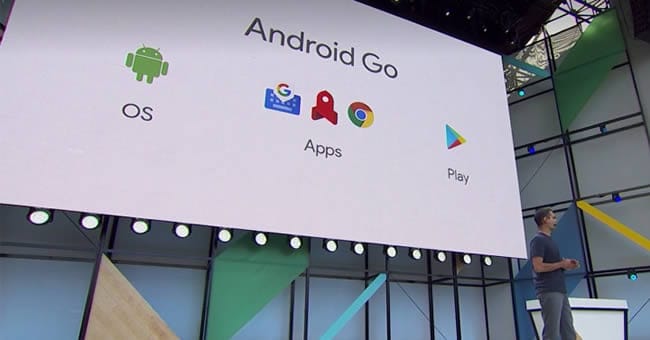 While Android O, the long-awaited Android version 8.0 Oreo, has been one of the biggest claims of Google I / O, the multinational has had time to provide details of a number of new developments around its software platform. One of those new features is Android Go, which can be considered as an optimized version of Android O for cheap smartphones, mainly delimited to those with 1 GB RAM or less.
As it could not be otherwise, Google has taken interest in Google I / O announcing figures and statistics. One of the most outstanding data among them is the one which says that there are currently 2,000 million devices with Android. However, not all of these computers have the optimal hardware to deliver the most satisfying experience of the latest Android version. The big G intends with Android Go to boost the use of its platform in cheap smartphones since it is a light version of Android O.
Android Go for Cheap Smartphones
Android One emerged as an initiative to bring smartphones with Android to potential markets like India. However, this project involved the launch of a smartphone with certain hardware. Now Google changes the chip and introduces Android Go, precisely to bring its software to the cheapest smartphones and therefore to those who have limited hardware which on most occasions worsens the experience of using Android.
Did you sneak a peek at #AndroidGo? A new experience is coming to entry-level #Android devices. #io17 pic.twitter.com/A9XogCuZyJ

— Android (@Android) May 17, 2017
According to the details offered by the company, Android Go will start from the base of Android O, but will have a series of optimizations and a less demanding layer with the hardware to make the experience smooth. However, it is not the only implementation. Similarly, the platform will include adjustments focused not only on lower consumption of hardware resources (including the battery), but will also optimize the reduction of data consumption. An option specially targeted for those users for whom it is not possible to access a tariff with high volume data download.
Setting for saving data in Android Go
In fact, according to this Android Go will come with YouTube Go, a Chrome version that has the option of active data saving by default as well as a version of Google Play that alerts the user about the apps adapted to Android Go in order to maintain a light ecosystem of services and applications. Moreover according to the explanations of the company, Android Go will be adapted to smartphones with 1 GB RAM or less.
Android Go available in 2018
Android Go will start next year and from the information known it is a sure bet to continue expanding the horizons of the software platform. An alternative especially designed for markets in which the most economical smartphones predominate and a gift for the users that do not have the economic means to access a high capacity data connection.