If you own a pixel mobile with Android OS then here is good news for you. A new Android update is ready to rock known as Android Q. But it's beta version is now available only for developers for a preview and it is expected that later it will be available for everyone. The beta version plenty of bugs and issues so it is advised to not to install it. The latest Update is looking like Android Pie but lots of things will clear after its official release.
If you are struggling about the Android Q release date, features and anything else then we are here to assist you.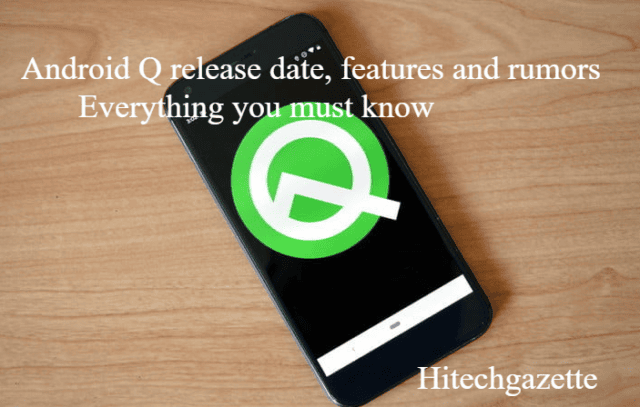 What is Android Q?
If you are Android phone users then no need to introduce the latest update. But for those who are not aware, it is the next version of the Android OS. Before it, many updates have rolled the devices like Android Oreo, Android Pie, Android Jelly, etc. And it is expected that the name of this update will also be based on a dessert name.
Android Q: Release Date
On April 3rd Google has launched the second beta version of the latest update for all pixel device holders. It is available for minorities but we highly recommend you to wait for its official release. But if you don't care about bugs and errors then you can go for it. here are the dates belongs to the latest Android update:
On March 13 the initial Android 10 developer beta has launched
In the foremost days of April Android Q beta 2 has rolled the internet
It is expected that in early May Android Q 3 beta will arrive
Beta 4 must reach in June
In July beta 5 and 6 will land
And finally, in August the final release will take place.
The official release of the final update will happen in August but that doesn't mean that it will be available for all Android phones. It will take a long time to avail this update for all Android users and even it can be postponed to 2020.
Android Q: Features
With the release of the version for developers, any of its features got noticed. Indeed we don't have the exact information about the latest features of this update but as per leaked information here are the main features of this update:
Support for foldable screens
One of the foremost attire is that this update is compatible with all the foldable new screens. And this feature is valuable for developers to make changes in their apps to make them convenient for big screen devices.

Dark Mode
Another leaked feature of this update is dark mode. It is expected that you will get the dark mode in Display setting and all your files will turn into dark Gray. Volume panel, quick settings, and notifications will turn black to be visible on the dark mode.
Privacy
The developer beta has also determined a huge focus on the privacy feature also. Android users will get more control over their apps and they can decide when an app can access their location. Some more privacy enhancements are limiting access to gadget's determiners like IEMI, Serial number, and other IDs.
Sharing
The most innovative attire of the Latest Android update is its efficiency to stake Wi-Fi networks details with a QR code. Now don't need to observe the list of letter and number situated on the router and just with a QR scan everything is done.
Block notifications
Useless notification always bothers us but the developers have recognized this inconvenience and Android Q is ready to solve this problem. If you want to block a notification for future then you just need to long press on that particular notification. Moreover, you can also choose silent delivery instead of blocking.
Bubbles
For those who love to interact via messaging, Bubble is a really precious feature of the latest update. You can have control over your important conversations easily along with a view of ongoing tasks. You can run multiple tasks at the same time with this cool feature.
Added theming options
You can customize the look of your Android device and it is the charm having an Android OS. And Android Q is bringing something new for you. You can change the color of UI with Blue, Green, Purple and Black colors.
A new battery symbol in quick settings to inform you when will your battery die.
Faster sharing options including the view of what are you sharing.
Desktop mode
Well Folks Android Q is ready to enter your Android devices but if you don't want to face any bug or issue then wait for the official release. Hope you got the fair idea about the upcoming update of Android OS and still any question is occurring in your mind then let us know below in the comment section.
Source: techradar.com
We have also made an Infographic to make you better understanding for Android Q Operating System: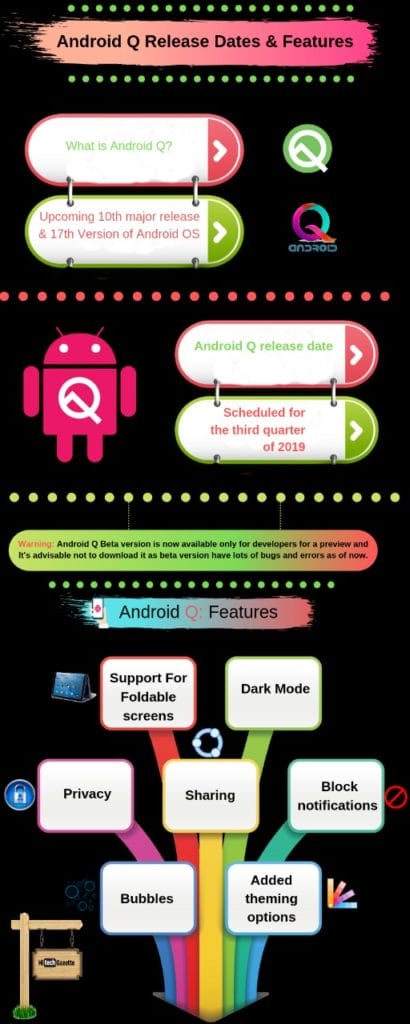 If you still have any question, please let me know!