Apple is the fourth most innovative company of 2017 as ranked Fast Company. Cupertino rose from seventh place in 2016 to fourth in 2017.
In the annual ranking of The Most Innovative Companies of 2017 Apple is the fourth most innovative company in the world. According to the Fast Company analysis, Apple company improves from seventh in 2016, climbing three places in the list, thanks to their own processors that are the basis of many devices launched in recent months.
In addition to the iPhone 7 A10 Fusion processor that exceeds in performance compared to all the other competitors processors, the Apple S2 processor used in Apple Watch Series 2. Also, Apple W1 wireless chip that has made possible the AirPods and the most recent Beats headphones and earphones. Finally, even the Apple T1 processor in MacBook Pro 2016 handles the Touch Bar and security functions and fingerprint recognition Touch ID. Profile dedicated to Apple, Fast Company highlights the CareKit technology in the medical field that improves data collection, communication between the patient and medical personnel, the Cupertino efforts in artificial intelligence and also in terms of privacy.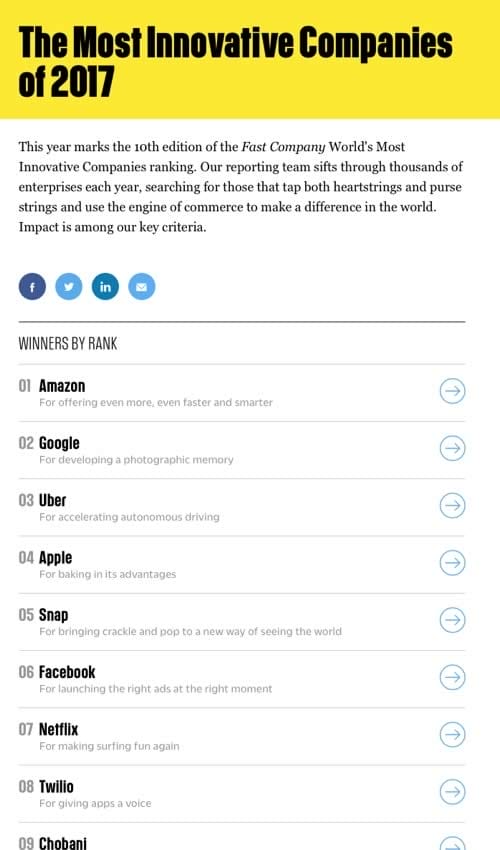 In the ranking of the most innovative companies of 2017 to the first place we find Amazon for the continued expansion of services and technologies available to not only end users but also companies. In second place we have Google, followed in third place by Uber. After the Apple's fourth position, we have Snap on fifth, Facebook sixth, Netflix in seventh place and then in tenth place Spotify.