There are rumors that Apple would use magnets to keep your Apple Pencil, but that would only apply to future versions of the iPad Pro and Apple Pencil. Apple is also thinking about new solutions to the problem which also benefit existing users, according to a new patent that surfaced this week. With Apple's inventions you could store the Pencil out of sight.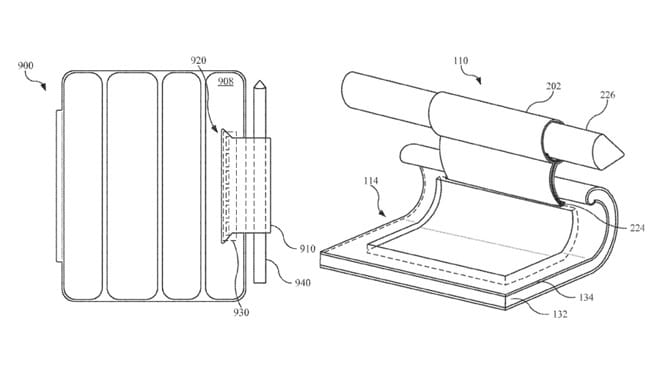 One of the options that Apple is considering is to store the Apple Pencil in cases and covers, so the stylus is still within easy reach if you need. In the patent that surfaced this week but all was filed in August 2015, Apple describes a loop of flexible material to slide into the Apple Pencil. Those valuables are under the flap of the cover so it does not get in the way during normal operation. Thanks to an empty space in the sleeve you can hide the loop as the iPad Pro is not in use. This is relatively easy, as the cover encloses the entire device.
For the cover, where this is not the case, Apple should bring something more inventive. The patent describes a magnetic solution, using the same loop to slide in the Apple Pencil. Two rows of magnets on the inside of the cover hold the loop in place. Also, it is to hide the Apple Pencil when not in use. This magnet system could, in theory, also can be used for a separate keyboard.
The use of a flexible material as a solution in order to store a Pencil, in practice, could also be used for styluses from other manufacturers. Incidentally there are cases of other manufacturers that let you store your Apple Pencil. But it speaks for itself that Apple is also going to think about it. After all, it increases the likelihood that customers immediately purchase one of Apple's own cases.