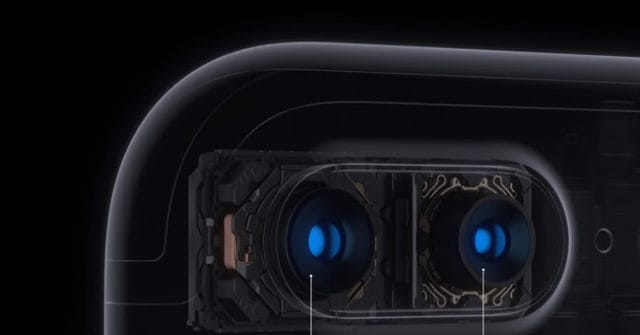 The first components to be seen on iPhone 8 are already undergoing the manufacturing process. Such is the case for OLED displays as well as the Apple A11 processor. Now we also know that LG will supply the front camera for iPhone 8, this news allows us to know another new feature of the future iPhone.
During last year we had attended the presentation of the first smartphones with double rear camera, and similarly 2017 has now started with the popularization of the configuration of double front camera in different smartphones like Oppo F3, Alcatel Flash among others. Apple seems determined to do the same thing with its iPhone 8 or so it seems, according to the latest data coming from LG Innotek.
Double front camera on iPhone 8
During the last hours, some news had been coming out saying that the signature of apple may have ordered a lot of cameras for the assembly of iPhone 8. A priori, the news may not be a novelty if we consider that the current iPhone 7 Plus and its dual rear camera comes from LG's camera division. However, the novelty is that, at least the requested camera module is actually the front camera. The same would have the particularity of having dual camera configuration.
So the question is asked why does Apple want to include a dual front camera on iPhone 8? And the truth is that the motivation to include two cameras goes beyond offering a better perspective for photos as 3D selfies. The reason would be more security-oriented as this double camera of iPhone 8 would provide greater security in terms of facial detection system that is expected to be included in the new mobile.
Facial recognition 3D dual camera front iPhone 8.
3D facial recognition technology would provide higher levels of security than it is possible to be offered from the detection through a camera. The thing is that the double lens, one of which would remain in the 32 millimeters of the current FaceTime camera of iPhone 7 along with another possibly 24 or 28 millimeters, would serve to capture the depth of the image more accurately. It's a technical detail that can lead to greater precision when performing a scan of the user's facial features.
This way the face recognition system of iPhone 8 would be safer and avoid being deceived by such rudimentary methods as scanning a photo of the user as a method to supplant the identity of the smartphone owner.
Therefore, if all the rumors about the cameras of iPhone 8 are confirmed, the next mobile of the bite apple signature would have dual camera in both the back and the front.
Read More:
Click Here: complete photo backup on iPhone and iPad