Aptoide is a mobile application store based on Android operating system as same as Google Play Store and Amazon App Store. It's name Aptoide formed from words "Apt" and "Oide", which means "the Debian package manager" and "the last syllable of "Android" respectively. This app store is available in more than 40 different languages across the world. According to some users, Aptoide is now one of the biggest competitor for Google Play Store and best alternative of Google Play Store. So, we are sharing some interesting facts and features about Aptoide, Aptoide Reviews, is aptoide safe and some comparison with Google Play Store. Read these facts and features, and decide yourself that Aptoide is actually an alternative and competitor for Google Play Store, or not.
About Aptoide:
Paulo Trezen founded Aptoide app store in 2009, and now has over 700K android apps. In 2010, Aptoide app store to popular and launched in the Bazaar Android site. Bazaar Android a platform, which provide the users to create their own store. In 2012, Aptoide app store and Bazaar Android become one company for provide better communications to their users.
In 2014, Aptoide files a case against Google, and blocks access to Aptoide websites in Google's Chrome browser. In 2015, the company entered in the Asian app market, and opened an office in Singapore.
Today, many version of Aptoide apps are available such as Aptoide App for smartphones and tablets, Aptoide TV for smart TVs and STBs, Aptoide VR and Aptoide Kids.
In 2017, Aptoide announced they are working with Appcoin, which is a cryptocurrency for apps, and 200 million users of Aptoide will be incentives in Appcoin currency.
Hope you like the information here about Aptoide app store. Must share your feedback with us, and comment below the post if you have any query and question regarding Aptoide.
Aptoide Features:
Aptoide's best feature is according to me, a user can download an app with different versions, or previous version of his own choice.
A user can easily share Aptoide apps, and doesn't need any third party app for sharing with friends.
In the Google Play Store, a user cannot download any app without Gmail account. But in Aptoide, a user doesn't need any email for downloading applications and games.
You could easily update and downgrade their apps. Suppose, a new update has appeared for your favorite game and you have updated. But, this new update doesn't suits you, in this situation, you can easily downgrade the application.
An interface of Aptoide is quite easy, and user-friendly. For download any application, you just need to tap on the app to download.
Aptoide has a partnership program too, where users can set up and manage their own retails android store with partners.
If you are an app developer, you can easily upload your app from your Dropbox folder.
For developers, Aptoide also has publisher program, which allows the developers to publish and monetize their apps.
How to Install Aptoide?
We are here sharing some links via you can easily download and install Aptoide app store in your android smartphone and tablet.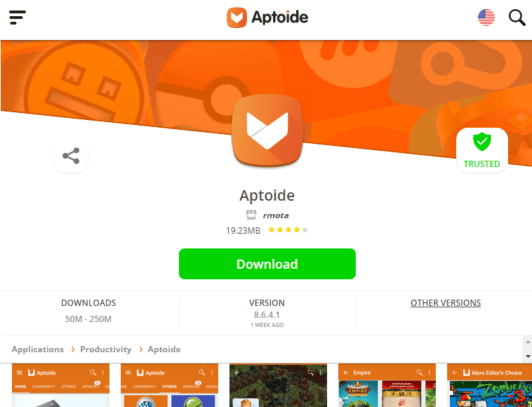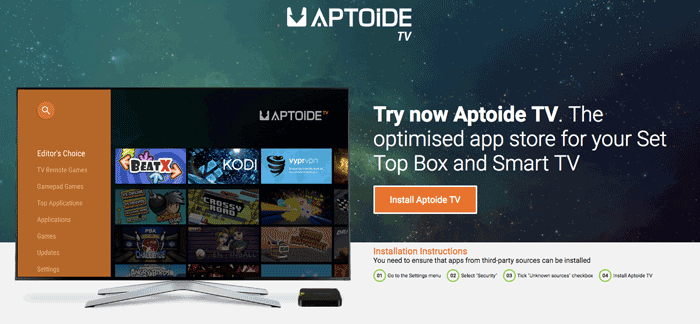 Follow one of these links, according to your device, and just click on Download, that's it.
See More: Is Aptoide Safe to Use or Not? – Even if you are having 1% question related to legality of aptoide app, I recommend you to check out my recent post "How Aptoide App Store is safer than any other app and how they achieve it".
Aptoide Vs Google Play Store:
A small comparison between Aptoide and Google Play Store.
Popularity: There is no doubt in the matter of popularity, Aptoide stands nowhere ahead of Google Play Store. According to a survey, only a few people known about Aptoide app store.
Users: Aptoide has nearly 100 million users in all over the world; according to a reports, but Google Play Store have users in Billions.
Security: Both the app stores are completely secure. They never compromise with their security features. But Aptoide hosts many free apps, in which, some of them are cracked apps from other app stores.
Variety of Apps: In this matter, both the app stores have advantages. On Google Play Store, number of apps are available in variety, but Aptoide has some apps, which are not available on Google Play Store.
Aptoide Reviews:
Aptoide is overall a very good place for downloading apps, who are not using Google Play Store. I am giving to 9 out 10 to Aptoide. Reasons behind not giving 10 out of 10 are:
Not all apps in the Aptoide app store are secure.
Have many cracked apps of paid apps from other app stores.
Some users complaining about slow downloading of apps.
Pros:
Aptoide uses Trusted Stamps for users.
It allows to downgrade.
User can create private store.
Aptoide has partnership program.
Aptoide has publishing program.
It offer open source version for developers.
It is available in 40 Langs.
Aptoide has malware free ecosystem.
Has a very user-friendly interface.
What Users Say About Aptoide:
According to some users on the android forum, Aptoide app store is better than Google Play Store because they do not have to login. Some said, this app store is safe as your trust for the curators.
If we believe some users, Aptoide app store is full of piracy apps. And some said, this app store is not legit store but if you download any app by checking security badge, then it's worth trying.
If you have used Aptoide app store before, please let us know your experience.