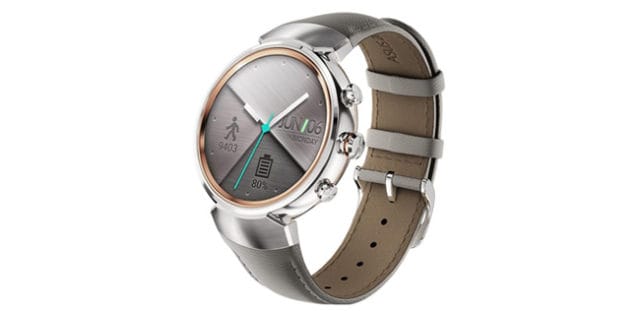 At the beginning of November last year, Asus introduced its new ZenWatch 3 smartwatch, which belongs to the ZenWatch family of products that started in 2014. However, it seems that the sales of this device are very poor, not even 6,000 units per month are being distributed. This report is according to the sources that are in the chain of production for the same in Taiwan. It seems like something that could cause Asus to cancel the manufacturing of this product soon enough.
This happen when a product is not profitable or becomes profitable through offers, promotions and marketing or is directly canceled production because a product that is not profitable is certainly not sustainable for the manufacturer. According to Digitimes, ZenWatch 3 is not profitable for Asus selling between 5,000 and 6,000 units monthly nothing more. As a counterpart, for example, Apple has sold around 3.5 million units of its Apple Watch in the first quarter of 2017 (according to data published by IDC), and in all its models Apple sold about 7 million in 2016. The comparisons are odious, but with these volumes of figures you can see that the difference is aberrant.
Why is Asus ZenWatch 3 having a difficult time?
Many could say that the main reason is the price because with so many cheap Chinese models available the price of around 200 dollars makes this model of Asus very expensive. However, if we stick to the data we just mentioned a moment ago about the Apple Watch, which is rather more expensive than it does not make much sense. It is clear that if the product is worth the users will pay its price.
Is it by the technical specifications then? The ZenWatch 3 mounts a Qualcomm Snapdragon 2100 processor with 512 MB RAM and 4 GB of internal storage, with a 1.39-inch circular AMOLED display. It does not seem that the technical specifications are a problem because of course this smartwatch if it stands out for something is for its good performance. Another thing is, of course, its operating system and its interaction with both the user and the smartphones, something that does not seem to have triumphed among users.
From our point of view, we believe that it is a combination of everything already commented on before. As on one hand, its interaction with user and smartphone is not the best we could get or want and on the other hand, it is a device that competes with Chinese products that are much cheaper and so its high price does not help their sales (in any case certainly does not compete with the Apple Watch).