Viruses on Android have always been a topic that has given a lot to talk, and one of the reasons for this is before it was much easier to download a virus on Android than on other operating systems. Today, we tell you all about the fake Google Play update called System Update.
We've talked about numerous issues on Google Play in recent years, but thanks to the latest updates of the Google operating system, we can see how steadily it becomes a much safer ecosystem in which we do not have to worry about many things. But still, we must continue to be careful with this type of scams or viruses.
In Google Play we have to be always careful with everything we download, because if we download an application that we are not completely sure is reliable, we should not even think about it. Unfortunately there are many applications like that, which usually have bad opinions, poorly made images and a striking title that is surely false.
System Update, the new Google Play threat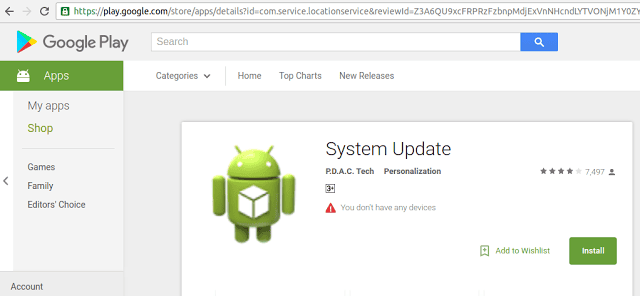 Today we learned that there is a new spyware on Google Play which is downloading a lot. According to Zscaler experts, who have done an analysis of this application, we see that it is an application that just disappears from the phone (only for users) and starts to install spyware on your phone.
This program starts storing data like the applications you use and geolocation. Many users when notice that this application does absolutely nothing, they decides to uninstall the application, which does not delete the spyware. In order to solve this, we will have to factory reset the smartphone.
Android users have to be careful with this application called System Update, since we do not know to which server it is sending all the data of the users that it tries to geolocalize when they download the application, but it is not something legal so you have to be very careful with it. Google Play apparently does not get rid of all applications like that.
In other app stores like the App Store, not everyone can upload their apps because they have a much larger filter than Google Play and is very easy to upload home applications in the Play Store.