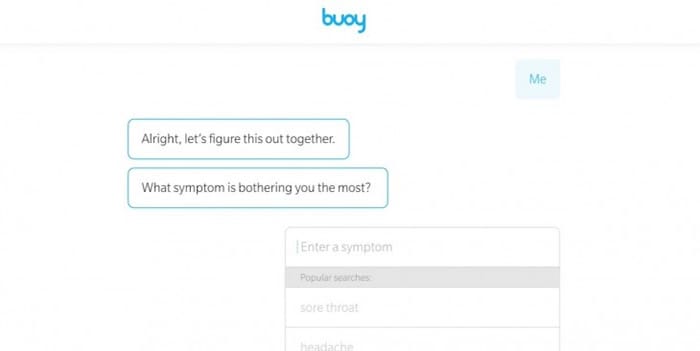 When we go to the doctor first we have to explain the symptoms so that, after the corresponding examination, they can indicate the disease that we suffer, a routine that has changed a lot during the last years because of the Internet.
Now practically everybody searches for information about what they feel on the Internet, and many times they arrive at the doctor with opinions formed, with a diagnosis made at home, based on pages published throughout the web which is inevitable.
What buoy offers is an artificial intelligence system that has been trained with more than 5 million patients, a chat, available on the web and iOS that can help us identify what we suffer much more accurately than with Google searches .
The bot can offer us options so that if we tell you that we have a cough, it will ask us if it is dry or not, and ask us the questions that a real doctor would do, always based on your history of real treatments. It will show photos, analyze the answers and give explanations so that we indicate as accurately as possible what we are feeling.
Buoy does not want to replace a real doctor, but wants to improve that self-diagnosis that people do via Google. For this, according to Andrew Le, its CEO, the app does not use decision trees, it uses a system of questions chosen from more than 30,000 based on statistical data from its database.
They have already used it in real tests. They did a test between 500 patients of an emergency center and compared the diagnosis, they were correct 90.9% of the time. In a second study, they performed 100 cases of coughs written by doctors in 33 different diagnoses through several alternatives, and they achieved a 92% success rate with precision of which specialist should be 98%.