The popularity of Chromebooks is growing slowly and is being discovered by more and more people as an alternative to the classic laptops with Windows or Mac OS operating system. In a niche that is not to be underestimated, the Chromebooks are already a leader in the US education market and the use of mobile devices in schools and have been able to significantly expand their market share last year.
The number of newly introduced Chromebooks in the past months has received positive feedback from many users and the sales numbers strongly shoot upwards. For a long time, however, Google has also been concentrating strongly on a very specific niche which can have a big impact and with a very great success.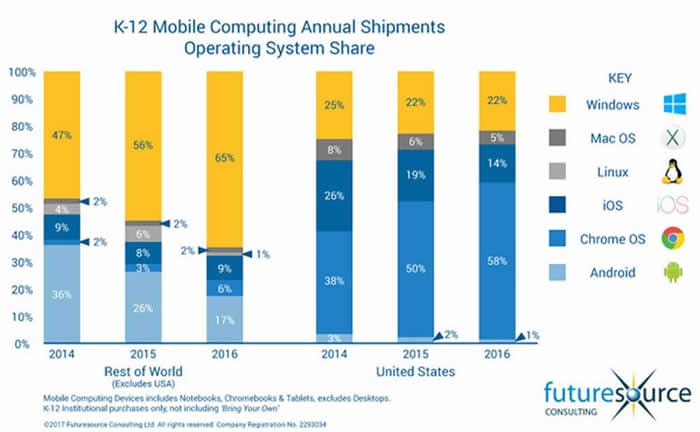 Market researchers at Futurescore have looked at the sales figures of all mobile devices at US schools last year, and have drawn from this data above graphic. As you can see, Google's share of Chromebooks drifted strongly and especially at the expense of Apple. While Chrome OS's share increased from 38 percent to 58 percent within two years, Apple's iOS has dropped from 26 percent to 14 percent. Microsoft is also experiencing a slight downward trend, but is still in use on a quarter of the machines.
Globally, the whole thing looks slightly different, because Google focuses mainly on the US market. Chrome OS has increased its share from 2 percent to 6 percent, and Microsoft has pushed the accelerator and accelerated its share from 47 percent to 65 percent. While Apple is stagnated, the share of Android fell rapidly. This is not quite as dramatic as the Android apps can now also be used on Chromebooks.
Google had been active in US schools for a long time and was able to celebrate small success years ago. According to the latest statistics, 20 million students worldwide rely on Chromebooks and the majority of them are currently still in the US. We have to see whether Google can also reach such numbers worldwide, but it will not be easy.
For Google, the US education market may not necessarily be lucrative, but it promises a great future for the platform. If students are accustomed to the operating system and the Google cloud during their school days, they will most likely continue to grow such a device later in private life. Microsoft has been successfully using this recipe for decades.