Today I bring to you the CleanMyMac 3 review, the program which is the best way to clean your Mac easily. The most complete software to keep our Mac in shape is updated by refreshing its design and including new forms of cleaning and maintenance tools.
One of the advantages of switching to Mac is that you can finally forget to defragment, format and clean your computer virus. However, that in no way means that we do not have to carry a minimal maintenance if we want it to continue working as is did on the first day. Even the best cars need to change the oil every so often. Just like when we have to do the maintenance of our car we go to a good mechanic, so when it comes to doing the maintenance of our Mac we should do the same. In that regard no one is better than CleanMyMac, let alone now that they have released its version 3.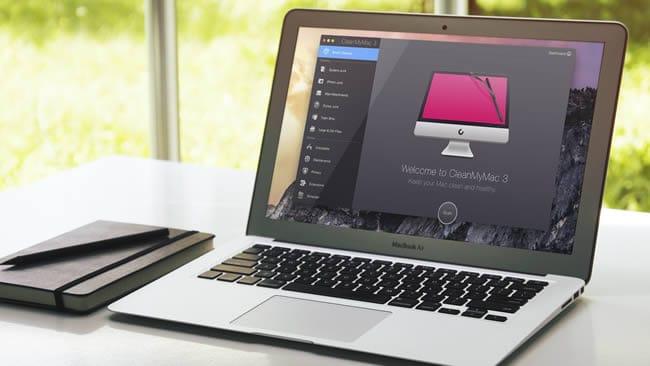 "CleanMyMac 3 is much more than a redesign." The first thing that stands out is the redesign it has undergone to adapt to the visual language of OS X Yosemite. MacPaw is known to break the "established" design and despite the arrival of Yosemite CleanMyMac continues with its custom design. It maintains the gray tone of version 2 but the lines have been simplified and a few transparencies have been added.
Main functions of CleanMyMac 3
Automatic cleaning of the entire system
Clean my Mac's offers with clean cache files, logs and all junk (junk) files that accumulate over time on your computer as well as unnecessary folders. All smart, safe and automatic.
Find the largest files and decide if you do not need more
There are few large file that are often taking up space without our knowledge that we might have forgotten and now that we do not need anymore! On a screen we can see all of them and if it should remove them to recover space on the hard disk.
Put order in your iPhoto photos!
The same applies to the photo library, we often download. We just returned from vacation and forget about it, without thinking that the shots went bad, or are duplicated on the hard drive and occupy many megabytes without being of any use, even hindering the search for the best photos.
Uninstall programs that are no longer in use
Often, our hard drives become cemeteries of "dead" programs, which are no longer used for months or years, or old versions not updated, CleanMyMac also offers a powerful uninstaller to locate the application on your Mac, not only in the applications folder but also hidden in other parts of the system.
Important: Delete all files linked to the dinstallati programs without leaving residues, which is what happens when you drag applications to the trash.
Extensions under control
Do you think you have the plugins for Safari or Extensions for Growl that no longer serves you? You can view them on a screen and decide which ones to eliminate, gaining speed and space at once. If you are not sure if an extension servant can only be deactivated and then eventually take it out!
Other Functions
In addition to these features, Clean My Mac offers several other utilities of interest, such as eraser that does not go through the trash and securely deletes files and definitive, a scheduler function to schedule cleaning when desired and an online exchange feature of cleaning results with friends.
It requires OS X 10.7 or higher and about 28 Mb of free disk space.
Benefits of CleanMyMac
Existing cleaning tools have been improved which now are much faster and it has added the option to optimize apps like Mail and iTunes.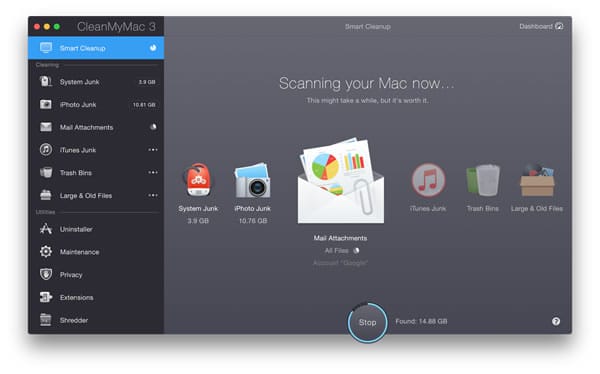 Although CleanMyMac is not going to take care of cleaning and tidying our inbox if it is going to take care of anything then it's removing of all attachments that Mail downloads automatically. Remember, this process does not delete any mail or its attachments it only removes, from our hard disk, the content that we can re-consult online. This way we do not lose any information and at the same time it optimizes the app.
In case of iTunes optimization it helps by removing unnecessary files from our library, so that we can save space and lighten the program without having to delete music, series or movies. Space saving is achieved by eliminating failed downloads (which for some reason iTunes does not delete automatically), old backups of our iChismes, iOS software updates and the applications we have downloaded on our iPhone.
Although the real break of CleanMyMac 3 comes with the new maintenance options that are included. This features that finally simplifies and facilitates tasks which until now required access to the recovery disk or execute complex commands in Mac terminals. Here is the list of maintenance tasks that CleanMyMac is able to perform:
Run maintenance commands that delete temporary files and optimize the system.
Clear the DNS cache.
Re-Index Mail to make the search more efficient.
Rebuild the database of "Launch Services" that is responsible for saying which apps is used to open a particular file, in addition to fixing the "open with" icons.
Re-Index Spotlight to improve your performance.
Repair the disk permissions.
Check the boot disk.
Check and repair external drives.
Since I usually install enough beta versions and try dozens of apps or "tricks" of automation I find these new tools really useful, especially considering how simple it is to use them.
New options added
"A" Privacy "mode has been included to erase our trail". Likewise a way to erase "our trail" has also been added. This mode of privacy allows us to eliminate the traces of our activity in a determined period of time, from an hour to all the data. The cleaning covers how it could not be otherwise the browsers we have installed (can delete browsing history and downloads, cookies, passwords and autofill) and also apps like Messages (where we can delete the attachments and the messages themselves) and the list of files recently opened in an app.
Finally we have included a "Board" where we can check the performance of our computer. Although it cannot compete with iStat Menus, but it is useful to check how hard our hard drive is, how much RAM we are using (and clean), how much battery we have left or how much power the processor is working on. This "board" is available in the CleanMyMac app itself or through the menu-bar.
Final CleanMyMac 3 Review
CleanMyMac 3 is a software designed specifically to "clean" your Mac and will eliminate unnecessary files that can slow down and physically steal valuable disk space, you will be amazed at how much space you can recover!
In some cases you can get back to tens of gigabytes and everything happens in a simple and safe way. If we use Mac for years and never think about cleaning, which in fact can accumulate many unnecessary files some of which large or duplicate and others photos that we will never use!
The same goes for installed programs of which they often lose memory and clog the OS X operating system.
A maintenance-free Mac joins ever-lower performance, longer boot times, little hard disk space, and many other issues.
CleanMyMac is based on easy to use software philosophy and allows little time to perform a complete and easy to use cleaning.
Those users who have v2 can upgrade to the latest version at a 50% discount and the rest can be done with a CleanMyMac license on the Macpaw website for $ 39.95.