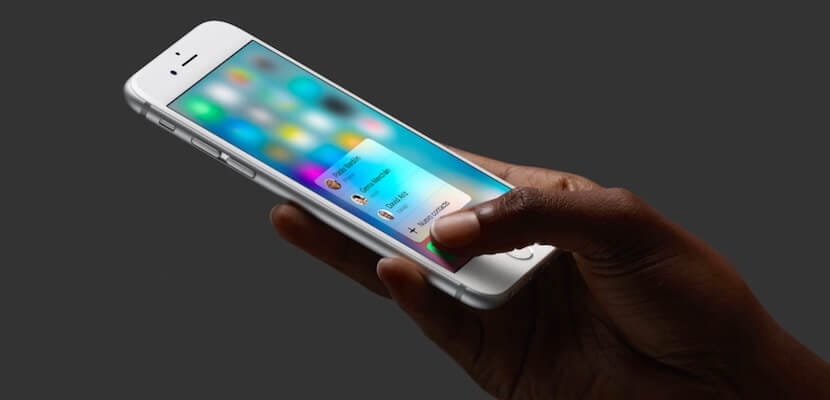 The well-known KGI analyst, Ming-Chi Kuo, says that Apple intends to improve two of the latest technologies (facial recognition and 3D Touch) developed by the company and introduced in its latest smartphones to achieve its main objective: an iPhone without frames, or rather with a few milestones.
The next iPhone continues to grab headlines with new specifications, and this time it is the turn of the fingerprint sensor, Touch ID, and the screen with its 3D Touch that allows to detect different levels of pressure.
Improved 3D Touch
It is assumed that the iPhone 8 will have an AMOLED screen, and this will force Apple to change the way the 3D Touch worked so far. The fact that the AMOLED screens are more fragile, and that we are also in front of a flexible screen to allow the edges to be curved, makes the current technology to achieve the 3D Touch is not valid. Apple should change to a new system that replaces the current FBCB sensor to another in the form of film that would also discriminate between more pressure levels, which would also have new possible functions added to the current peek and pop.
But this will also pose a new challenge for the company, as the AMOLED panel will be more fragile, and Apple will have to reinforce it with some kind of mark or plaque. It seems that the path taken by the company is that of a metallic structure that would help to give greater solidity to the screen of the next iPhone.
Facial recognition
If we reduce the frames of the next iPhone to the maximum, there is no space left to place a start button with its Touch ID sensor below it. The fingerprint sensor of the new iPhone 8 should therefore be integrated into the screen of the device, and that means that Apple should abandon the technology used so far.
The capacitive sensor should be replaced by an optical sensor, but in addition this would be only a first step since the route established by Apple includes the complete abandonment of the fingerprint sensor in favor of a new facial recognition system that would identify us, the time to access our device or make payments with it.
Launched with the iPhone 5s, the Touch ID sensor is already in its second generation, and the third generation to be included in the iPhone 8 could be the last, that would live on this new iPhone with face recognition feature.