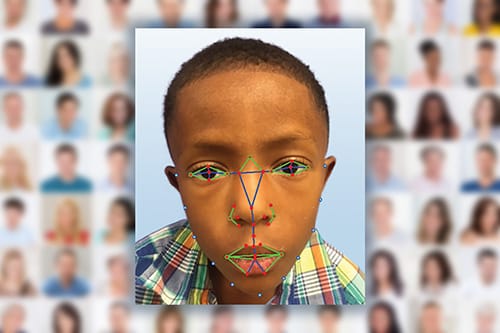 The National Human Genome Research Institute (NHGRI) has used the potential of facial recognition to diagnose a particular genetic disease.
According to statistics, this disease called DiGeorge Syndrome can affect one between 3000 or 4000 children. It is difficult to detect early as it is necessary to perform different types of genetic tests.
One of the symptoms evaluated is related to certain facial features such as cleft palate, cleft lip and drooping eyelids. It is related to the velocardiofacial syndrome, which results in multiple defects in the body mainly heart defects.
However, the diagnosis of these types of symptoms are very difficult to relate to this type of genetic diseases, since they do not manifest themselves in the same way in the patients.
To overcome this problem, the researchers created facial recognition software after analyzing photographs of more than 101 patients with this disease. The photographs of patients were from populations of 11 different countries including Asia, Africa and Latin America. According to the results they share in their report, they managed to reach the correct diagnosis 96.6% of the time.
The main goal of this study is to help health-care industry to properly identify the DiGeorge disease so correct diagnoses can be applied.
This opens the door to implementing this facial recognition dynamics for the early detection of other types of genetic diseases, such as Noonan Syndrome or Williams Syndrome. This technology can also be used to diagnose Down Syndrome.
The full report of NHGRI is in this link:
National Human Genome Research Institute (NHGRI)