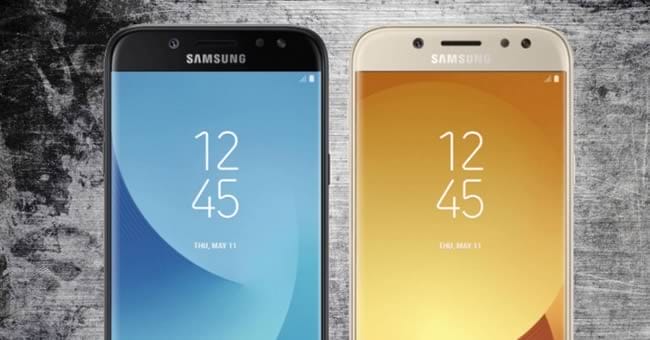 With the permission of the Samsung Galaxy Note 8, the most anticipated Samsung smartphones of the moment are the ones that would renew the mid-range catalog of the brand. We are referring of course to the J series of 2017 that, after becoming a complete sales success in the last year, intends to repeat the same formula this year along with taking approval of the users. Recently, we found out about the new images and features of the Samsung Galaxy J5 of 2017.
Last week we knew the first details of the Samsung Galaxy J3 and J7 of 2017, and now it's time to take a look at the possible design and features of the Samsung Galaxy J5 2017, the mobile that completes the trio of mid-range smartphones maker. The SlahsLeaks portal allows us to take a look at the lines and forms that will be the future mobile of the Korean company.
Seeing that smartphones in the Galaxy J range of 2016 has begun to fall in price and the simultaneous increase in the leaks about the 2017 smartphones, it is now expected that the new smartphones by Samsung would be presented before summer. This all would make it possible to find out about all the characteristics of this Samsung Galaxy J5 of 2017 and the other mobiles in this same month of May.
Possible features of Samsung Galaxy J5 2017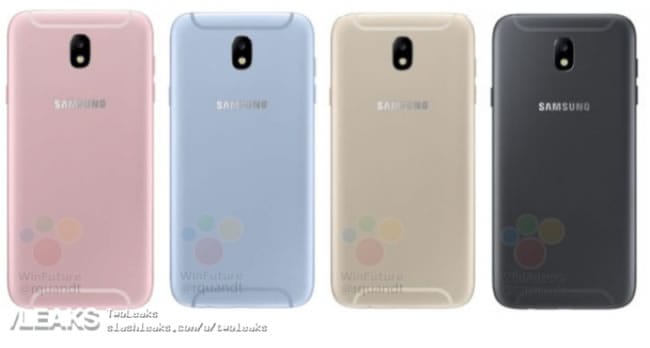 Along with the images of its design there are also filtered information regarding the characteristics of the Samsung Galaxy J5 2017, compared directly with the last year's model. This way we can see that the side frames of the screen are reduced and that there are more curved lines which seems to be the trend of this year.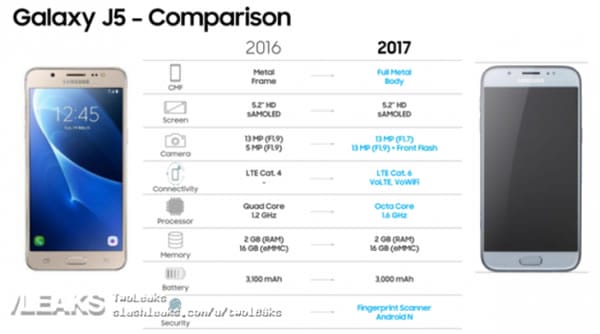 According to this leak, the Samsung Galaxy J5 of 2017 would feature a 5.2-inch screen with HD resolution, a panel that is virtually identical to its predecessor. As for the power of the device, it would have an octa-core processor accompanied by 2 GB RAM and 16 GB of internal storage.
As for the most interesting aspect the multimedia section of the phone, this leak indicates that the Samsung Galaxy J5 2017 would have a 13 megapixel rear camera with LED flash, along with the front sensor of the same configuration as the rear sensor and it would also have a flash front. As for the battery, it will have a 3,000 mAh battery and Android 7.0 Nougat as operating system.
At the moment there is no filing date, so we will closely follow the news about the company.