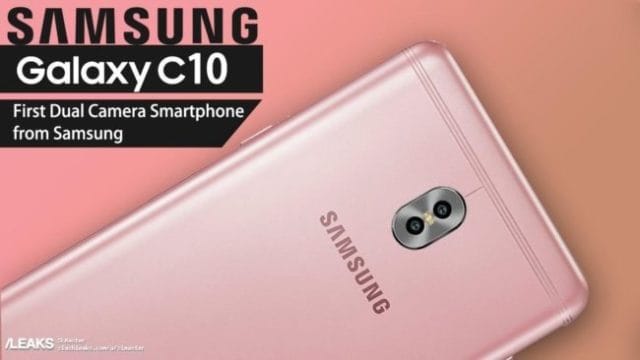 The market is evolving to a site where we will see all the mobiles with a double camera. Recently, we mentioned that Bixby would be integrated in this mobile and today we see the first image of the Samsung Galaxy C10 with double camera.
One of the brands that started standardizing the double camera in smartphones was Huawei, which began this process more than a year ago. However, around that time LG also bet on this double camera feature. After that many brands started betting on this technology in different ways, such as iPhone with its portrait mode.
It was rumored that Samsung would implement this dual camera in the Samsung Galaxy S8, but for various reasons, it did not happen. Note 8 continue to filter that it will have two sensors with optical zoom; however now we found out that the first mobile with this type of technology will be a mid-range and a high-end.
This would be the new Samsung Galaxy C10 with dual camera. Well yes, after so many rumors about this mobile, it already seems confirmed that it would carry a module of two cameras that would be integrated in the back of the mobile. The design as we know would still be quite similar to that of the Samsung Galaxy C.
Dual camera of Samsung Galaxy C10
This mobile, whose arrival date is unknown yet, seems as the one that would not be to destined for the markets in Spain, since it is usually left in the countries of the Asian market. However, no one knows this for sure as this smartphone could be the one to skip this tradition. This image would confirm that Samsung, after LG, Huawei and Apple, would have a mobile with two cameras.
As for its characteristics, there is still a lot of information to be revealed. It was rumored long ago that it would have a Qualcomm Snapdragon 660 processor, and that it would not arrive alone as it would be accompanied by its older brother, the Plus version. Also, as we mentioned before, it would have an integrated button of Bixby, letting to see the intentions of Samsung.
This new Samsung mobile tells us about all the work that its company is doing. It wants to integrate Bixby in all its smartphones and also bet on the double camera (in case it works well) in the high range, like for the Note, and in the mid-range like in this mobile. We look forward to seeing more of Samsung mobile phones real soon.