Today, whoever owns a PC, don't give f**k about Cable Management.
Be it the businesses or an individual user.
Businesses only want their network running all the time smoothly. As long as their work is being done, they don't care about the mess happening inside the PC Cases.
But…but….but,
Don't brush this off. Bad cable management can have a long-lasting &, most importantly, bad impact on the business operations.
Hence, causing a major ruckus over time. So, going ahead in this post, I'll share my views on why cable management matters in 2021 & how you can implement proper cable management to bring measurable difference for your company and deliver many fruitful results.
Let's get started:
Why Cable Management Matter in 2021?
Before going ahead with the post, I would like to address the "Elephant in the Room" – Why good Cable Management matter in 2021? Many think of doing this only for the sake of looks.
I won't argue here, as better cable management does make your PC look good. But that's not the major reason why you should do it. And that's probably why I've outlined the importance of desk cable management in two categories:
Fashion.
Function.
If your case comes with a side panel window like this …
You probably don't want the cables making it look messy for you.
Would you?
As for the 2nd category, you need better functioning management for:
Reducing the overall temperature in the Cabinet.
Optimal airflow to all your PC's components.
Increasing the life expectancy of your PC.
And countless similar reasons. Now, let's compare Good Cable Management with Bad cable Management and how this can grow your organization at a faster pace.
Good Cable Management vs. Bad Cable Management
Lesser Downtime
Whenever a PC starts giving a problem, what's the first thing you do?
Troubleshoot it for potential errors. But once you open the PC up & it looks like this from the inside: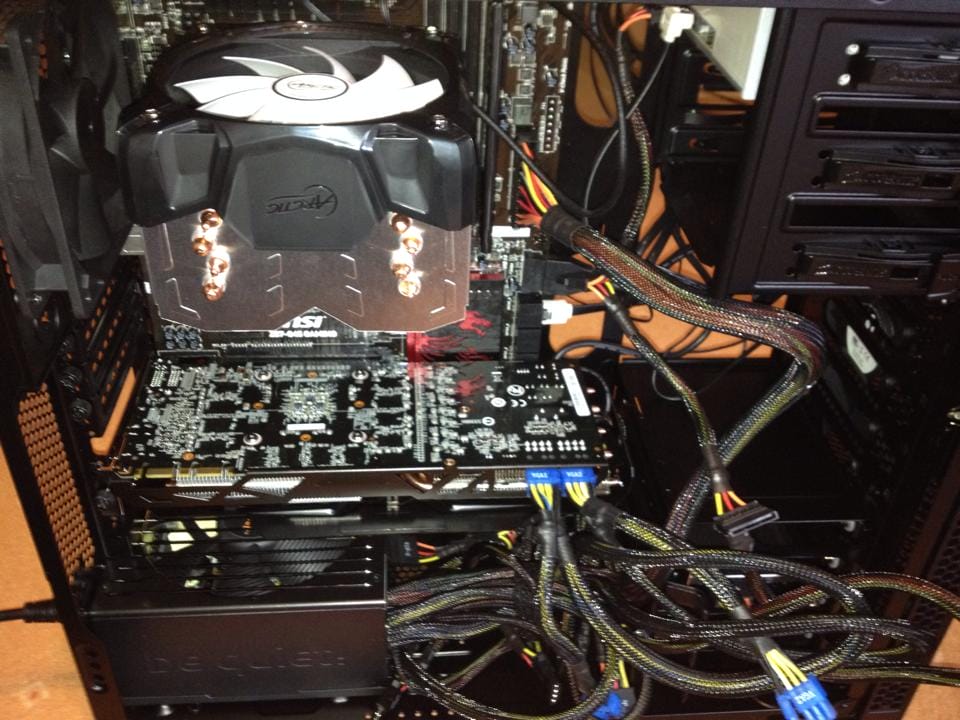 Would this help? Not at all.
Instead, this will be an additional headache for you. In the end, it's you who has to find your way to work through the cables & find out what the actual problem is.
And the result of this would be – you wasting your precious time. Here, Good Cable Management becomes super important when your work is time-bound & you can't afford to lose much of your time.
A Professional Appearance
Suppose clients, vendors are visiting your data centers & this is what they see –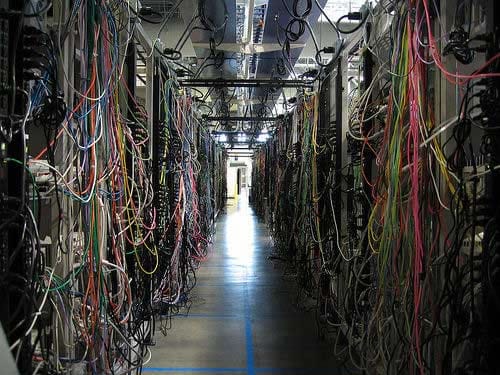 Does this look good for your brand's image? When cables look more like a spider's web than properly arranged network cables, this image will give a bad 1st impression.
And remember – 'The FIRST impression is the LAST Impression.'
So, implement good cable management in your workaround and show off how organized your organization is.
Optimized Performance
Bad cabling doesn't let you maximize network performance. You end up with signal interference that slows everything down. Worse still, disorganized cables can get pinched, which can cause them to malfunction and break.
The consequences of these problems quickly become apparent.
Employee productivity goes down, and projects get off schedule because it takes a long time to access vital data. Applications encounter timeouts and other errors due to the latency. All of these small inconveniences add up quickly.
Proper cable management can keep everything together in a neat and tidy arrangement. You can also sufficiently cool all of the hardware because wires won't interrupt optimal airflow. You'll also minimize signal noise by avoiding the areas with the greatest interference or using less sensitive equipment to this problem.
Easy Future Upgrades
Be it Intel or AMD, every 1-2 years, they come up with a new generation of processors. And there always comes a time when you need to upgrade your business with a new set of technologies. And messy networking cables can result in wasting too much time for your technicians.
From untangling everything to organizing all the chaos happening inside your PC's cabinet. And without proper centralization or logical configuration, the complete process takes a hell of a lot of time for you.
When the complete opposite of this chaos happens, your business goes through a relatively smooth upgrading process. Hence, positively impacting the performance.
Getting the Guidance from Xperts
Proper desk cable management is a super important part of the overall infrastructure of your business. Good cable management is what you need to:
Improves network performance
Increases productivity
Reduce troubleshooting time
And most importantly, make the workplace a safer place.
With proper guidance from the experts, your business will surely thrive & reap the benefits in the long-run, if not today.
Frequently Asked Questions
Question: What tool is used to Organize computer cables & wires together in a neat manner?
Answer: Cable ties & parts organizer are the two most important tools used to organize computer cables & wires neatly.
Questions: Can cables touch the Motherboard?
Answer: As long as the cables are insulated, nothing will happen to the motherboard.
Question: How do you keep cables tidy?
Answer: Power Strips and Surge Protectors are the two must-have items you should have for keeping the cables tidy.
Question: How do you Zip tie a computer cable?
Answer: If the cables are precisely separated, hold them together, and zip tie them
Final Thoughts
When many businesses are running after trivial issues, they tend to forget the most important one – Proper desk cable management. And I hope this post will guide you in implementing Good Cable management in your business.
That's it for now. If you've still got any doubts about desk management for the business or individual users, let me about it in the comments section.