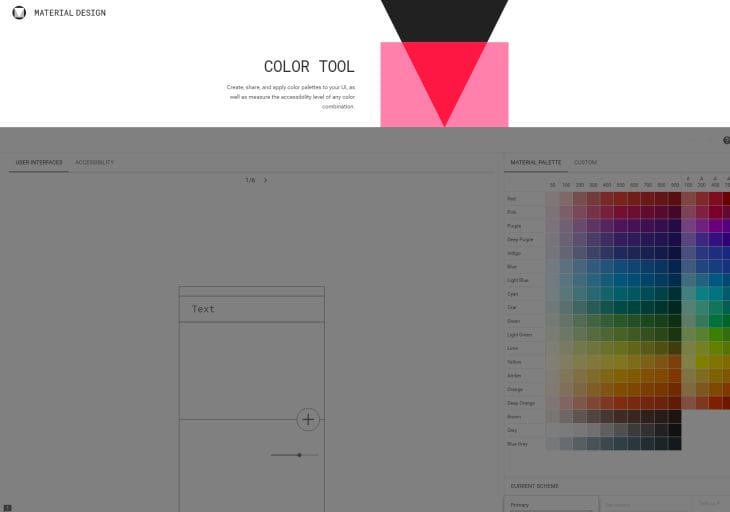 Material Design is a design rule developed by Google to establish a set of visual principles to apply in applications and services for different platforms. In addition, this policy is accompanied by practical examples and tools that will help the developers to establish their visual styles in their applications and services.
In this regard, today Google has launched Color Tool, a new tool that will allow developers to create and share their own color palettes. These guidelines have simplified the process of creating, distributing, and adding color palettes to the design interface. This latest tool is completely web-based with a simple and clickable interface. It will also have the ability to apply them to the user interfaces of the applications and services.
The new tool will allow designers to test color schemes on the sample user interfaces and get a preview of these new layouts in a lot of components of material design. So well, it will come in handy by creating darker and lighter variations of the primary and secondary colors of an application. In addition, designers would be able to export their sample work to HTML, CSS or JavaScript in Codepen.
After applying the respective customizations, the new tool would also allow developers to evaluate whether the text is readable in colored backgrounds. The new tools are based on the readability standards of the Web Content Accessibility Guidelines and offer proposals for minimal opacity of the text.
Aside from extending the basics of using text fields, the tool also includes a new section containing text field boxes to expand users' ability to discover.
The tool also offers more resources when developers treat different addresses that include right-to-left (RTL) icons. With these new tools, it will be very interesting to see what new design changes we see in the next versions.
The new tool is available free of charge. It is already available through the material.io/color address, from which developers can start playing with color combinations and know the results in case of finally applying them in their applications and services in order to offer a richer visual experience to their users.
Source : Google Blogs