Find the best way to backup iPhone or iPad to PC via iTunes or iCloud. Follow this step by step guide to save a copy of your iPhone contacts, photos, videos and apps to your Macbook.
You're lucky if you have not lost your personal phone's data while using an iPhone or iPad. Many users, including me, have atleast once, faced the loss of personal data: contacts, notes, calendar and reminders. Data backup and recovery is essential if the device fails unexpectedly or it is lost/stolen. With the help of iPhone or iPad backup, protection against such troubles is simple.
In this post I will discuss the following issues related to backup of iPhone / iPad:
What's included in the backup copy of iTunes and iCloud
3 Ways to Backup iPhone / iPad
Automatic Backup of iPhone / iPad
Managing iPhone / iPad backups: how to set up and how to delete?
iPhone / iPad Backup
Apple provides two types of backups for its devices : iTunes and iCloud. iTunes and iCloud backups differ from each other.
Unfortunately the backup does not include all the contents of the iOS device. Imagine how much time it would take to backup all applications and videos, and how much storage would such a copy need! Apple, as always, have not given us the right to choose and therefore the iPhone backup contains a fixed set of data.
Contents of an iPhone / iPad backup
Photographic Media: photos, screen shots, saved images and captured videos
Notes
Settings for email accounts
Contacts and call history
Calendar events
Safari bookmarks, cookies, history, offline data and currently open pages
Autocomplete for web pages
Cache / database of standalone web application data
Messages : iMessage, as well as SMS and MMS with attachments (images and video)
Audio recordings made with the help of a voice recorder
Network settings: saved Wi-Fi hotspots, VPN settings, network settings
Keychain: passwords for e-mail accounts, Wi-Fi passwords and passwords entered on websites and in some programs
Information about the installed on the iPhone / iPad games and programs from the App Store
Parameters, settings and data of programs, including documents
Built-in purchases
Game Center account
Wallpaper
Bookmarks of the "Maps" program, search history and current location.
Bluetooth devices, combined in a pair (if this data is restored to the same phone that was used to create a backup copy).
The list of what's not included in the iPhone / iPad backup copy is shorter and depends on the type of backup: iTunes or iCloud.
iTunes does not include a backup copy of the following :
Music from the iTunes Store
Games and applications from the App Store
Music, photos, videos and books downloaded to your device using iTunes
Previously stored photos like files from the album "My Photo Stream" and the iCloud Photo Library
Touch ID Settings
Apple Pay Information and Settings
Data of the following applications : Activity, Health and Keychain (to create a backup copy of this data, you must use the encryption function of backups in iTunes).
The backup copy of iCloud is not as complete as iTunes, but everything that most of us need is there.
iCloud does not include a backup copy of the following :
Previously stored data on iCloud like contacts, calendars, notes, files from the album "My photo stream" and the iCloud Photo library
Whatever data you might have stored in Gmail or Exchange will not be saved with iCloud.
One more important thing not included in iCloud backup is all the information and settings of Apple Pay.
iCloud does not includes any settings of Touch ID
Content downloaded from any sources other than the iTunes Store, the App Store or iBooks Store (for example, imported MP3 files, videos or CDs)
Content downloaded using the iTunes service in the cloud and the contents of the App Store. Previously purchased content is still available in the iTunes Store, App Store or iBooks Store, you can download it again.
3 Ways to backup iPhone or iPad
On your computer using iTunes.
On iPhone or iPad using iCloud.
On a computer using third-party software, for example, iMazing.
iTunes Backup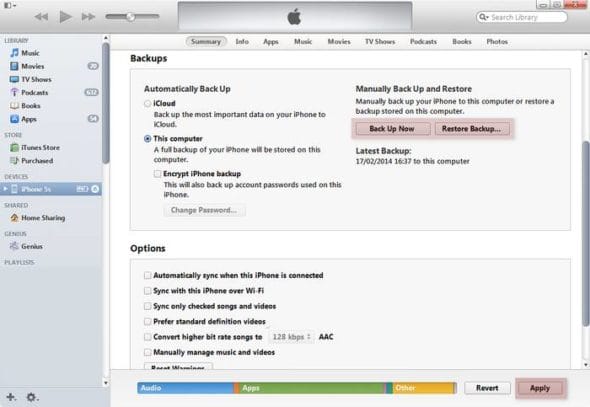 It is created on a local Windows or Mac computer in iTunes.
It can be encrypted with a password (in the encrypted copy data from the apps : Activity, Health and Keychain are saved).
It is created automatically when restoring iPhone / iPad or updating iOS.
Only one copy is created for each device within the same iOS generation. For example, when creating an iPhone backup with iOS 9.3.1, the previous copy is replaced with a new one.
To restore data from an iTunes backup, you need to connect the device to the computer.
You can restore data from the copy at any time.
Backup iPhone with iTunes
I remind you that this is a local backup (it is stored on the hard disk of your Windows or Mac computer).
Launch iTunes and connect the device via USB.
Select your device and click the "Make a copy now" button. ITunes will start the backup process.
After successfully creating a backup copy in the "Recent Copies" journal, you will see the inscription: "Today (time) on this computer".
Information about the backup will appear in the program settings on the Devices tab.
iCloud Backup
It is created directly on the iPhone and iPad.
It is stored in the cloud storage (on Apple servers).
It is created automatically or manually.
Automatically created daily if:

The device is connected to a power source.
The device is connected to a Wi-Fi network with Internet access.
The device screen is locked.

To restore data from a backup copy of iCloud, you do not need to connect the device to the computer.
Restoring data from a copy of iCloud is performed when the device is activated after it is restored to iTunes and the contents and settings are deleted.
Backup iPhone on iCloud
Create an Apple ID if you do not have an Apple account – it's free.
Connect iCloud on your device, if you have not already done so – 5 GB of free space in the cloud storage is available for free (for personal backups this volume is more than enough).
Connect iPhone / iPad to the Internet via Wi-Fi (to start backup, you need to connect to a Wi-Fi network).
On the device go to "Settings -> iCloud -> Backup" (the page should be scrolled to the bottom).
Turn on the "iCloud Backup" switch.
Click on "Backup Now".
The "Backup Now" option is disabled if your device is not connected to a Wi-Fi network with Internet access.
Create a iPhone backup using iMazing
iTunes is not the only computer application with the iPhone / iPad backup function. iMazing or any other third party backup application can also be used instead of iTunes. In this article I will elaborate on iMazing. Its almost a full analog of iTunes, only without the function of restoring and updating the device.
Interestingly, iMazing and iTunes backups are fully compatible: a copy of iTunes is recognized in iMazing and a copy of iMazing is compatible with iTunes.
Also in iMazing you can create a single-file backup of iPhone / iPad, in contrast to iTunes, a backup copy of which is dozens of encrypted using the cryptographic hashing algorithm (SHA-1) files. Such backups can be created as much as you like for each version of iOS.
To back up your iPhone / iPad using iMazing:
Connect the device to the computer via USB.
Launch the iMazing application.
If you are connecting the device to a computer for the first time, allow the computer access to the settings and data on your iPhone / iPad.
Select your device from the main program menu and click the "Make a copy" button.
In the window that appears, select the type of copy: a standard backup (compatible with iTunes) or one-copy copy of iMazing.
Enable "Automatically create a copy when this device is detected" feature and the program will automatically back up your iPhone / iPad each time it is connected to the computer (if running iMazing).
Also in iMazing you can change the way to save backups and enable their encryption – this will allow you to copy passwords and health data from your account.
Click the "Make a copy" button and do not unplug the device until the process is complete. Backing up my iPhone 5s to 16 GB with free 2.8 GB took no more than 1 minute.
Start iTunes, go to the Settings program on the Devices tab and, at the time of the copy creation, make sure that the copy created in iMazing replaced the copy in iTunes.
Automatic backup of iPhone / iPad
If your iPhone / iPad is connected to a power source and to a Wi-Fi network with Internet access and its screen is locked, then iCloud backups are automatically created every day.
On one hand, it's great, because it saves us time, on the other – it can lead to the loss of contacts, calendar events or Safari bookmarks. For example, your iPhone is on charge and connected to a Wi-Fi network, you deleted the contact, and then locked the device by pressing the "Power" button (off button). iCloud automatically creates a new backup without the contact that you deleted, which replaces the old copy created before the data was deleted. As a result, you were left without a contact, and if it were not for the data recovery function in iCloud, your data would be irretrievably deleted. Fortunately, the files in iCloud Drive, contacts, calendar and Safari bookmarks can be restored.
Manage backups of iCloud
I assume that you already have a backup copy of your iOS device on iCloud. Information about the latest copy is in the menu Settings > iCloud > Storage
The iCloud backup properties contain the following information:
Date and time when the last copy was created.
The copy size in megabytes.
Backup options for applications installed on your device.
Turn off the back up of any application on the iPhone / iPad
On the device go to Settings > iCloud > Storage > Manage Storage > [Your iOS Device]
In the Backup Options, find the desired application and disable the switch on the right.
Confirm your intention by clicking "Turn Off & Delete". These applications will not be included in the next iCloud backup.
If you change your mind and want to enable backup of installed applications, enable the corresponding switches in Settings > iCloud > Storage > Manage > Backups section > [Your device name] > Backup Settings list.
In this way, you can flexibly configure the backup data of individual programs and reduce the size of the copy of iCloud.
Using Dropbox to Backup iPhone Photos and Videos
Currently, in smartphones we mostly have our focus on the cameras . However it is the content that we value most and it hurts us the most when for various reasonswe lose the phone because of theft, damage, etc. Therefore, it is important to take advantage of the current tools that allow us to go archiving in the cloud instantly all our photos. Today we explained in this tutorial how to configure Dropbox to back up the images taken with your iPhone.
Access the App Store and download the Dropbox app. It is free .
Access the application.
Enter Settings by pressing the " Settings " button , located at the bottom.
Select the option " Uploads from camera ".
Now when you activate the tab already automatically the photos and videos that you make with your iPhone will be automatically copied to Dropbox inside the folder .
Remove an iTunes Backup
Start iTunes and go to the "Edit > Settings > menu on the "Devices" tab.
Left-click on the name of the backup to select it. Then click the "Delete Backup" button and confirm.
Your device's backup will be permanently deleted.
Remove an iCloud backup
On the iPhone / iPad go to Settings > iCloud > Storage > Manage > [Name of your device] > Backups section.
Scroll down to the bottom and click "Delete Backup".
Confirm by clicking "Turn Off and Delete". After a few seconds, this copy will be deleted.
Useful Tips
If the value of your personal data is many times greater than the cost of the device on which it is stored, or even priceless, you should configure the backup immediately after purchasing the device.
If you forget to back up manually, let iOS do it automatically for you.
Create two backup copies of one device (if there is no money for iMazing): create it locally on iTunes and remotely in iCloud.
Creating two backup copies will be helpful in the following circumstances
The backup copy of iTunes may be corrupted, for example, if the backup was not successful or was not completed.
You can lose access to your Apple ID, and with it, to a copy of iCloud.
According to the theory of probability, the probability of occurence of two events is always less than the probability of each of these events separately, and hence the chances of losing data when creating two copies is less.