iOS 10.3 will bring an opt-in for users to authorize iCloud data collection to help the company improve its software products, including Siri. With such steps Apple is really taking seriously the idea of making its virtual assistant ever smarter.
The next version of Apple's mobile operating system, iOS 10.3, is already in beta and includes some features like a "theater" mode and an AirPods browser.
However, the news does not end there, as one of the iOS 10.3 functionality allows Apple to collect data from iCloud, so that the company can improve its products and services.
iCloud Analytics seeks to collect information from users securely, using what Apple calls "differential privacy" to ensure that the data does not identify the user.
The description of this functionality also explicitly names Siri, Apple's digital assistant, as one of the services that will benefit from this iCloud information analysis.
A beta version of iOS 10.3 was released earlier this week, and testers noted the presence of a new note that talks about data privacy and data analysis issues in the manufacturer's cloud storage service. By accepting the terms, you agree to release to Apple, its subsidiaries and agents the collection, maintenance, processing and use of the information stored in iCloud.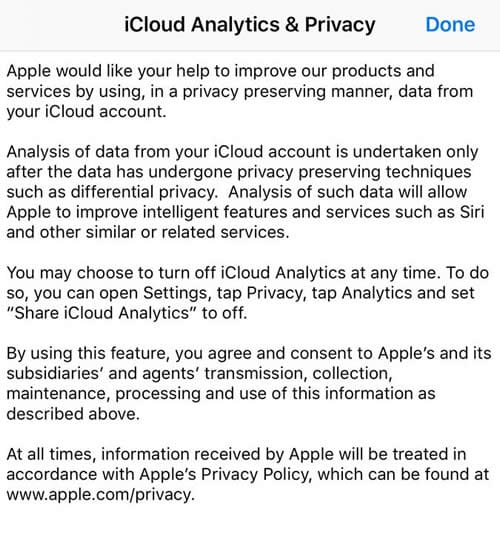 The feature will not be enabled by default and you can disable it at any time. In short, such differentiated privacy cited by Apple in its notice is a way to encode user data so that it cannot be traced back to its owner.
In this way, the information will be analyzed in bulk to look for trends. This is yet another spin-off from the Cupertino company in the world of Artificial Intelligence, which has today joined the founding member list of Partnership on AI, a coalition that brings together members of technology giants such as Microsoft, Google and Amazon as well as nonprofits to disseminate best practices and ethical research related to AI.
This collaboration, combined with data available to Apple after the launch of iOS 10.3, could boost Apple's artificial intelligence developments and help Siri compete against Microsoft's Cortana, Amazon's Alexa or Samsung's future Bixby.
For those who are worried about providing information to Apple, the iCloud Analytics functionality is optional, and users who accept can turn back at any time.