The word Khalistan is taking the internet by storm. Let us first understand what exactly is Khalistan and does Indian sikh still support khalistan movement today or it was just a dream of few separatists.
What is Khalistan?
We should know that The Khalistan movement is a nationalist movement which is of Sikhs, which seeks to create a separate country which will be called Khalistān which actually means "The Land of Khalsa" or the land of the pure people in the Punjab of South Asia. The definition in terms of boundaries of the proposed country which would be named as Khalistan will range from the region of Punjab to even the parts of states like Himachal Pradesh, Rajasthan, J&K. Also Chandigarh will be the capital of Khalistan if at all it is formed.
Is khalistan Movement still alive in 2020?
As far as I researched, Khalistan movement in punjab ended because it was started by few people obsessed with power. Frankly speaking, Khalistan movement was not made for sikh people and that's the reason khalistan can never be formed in real.
Surely, It will not be formed till the whole of India and Indian states stay united. It is also important to note that even the Sikhs are not in majority in Punjab by 2020, also one should consider that Sikh population had also accounted to 57% of Sikhs in Punjab.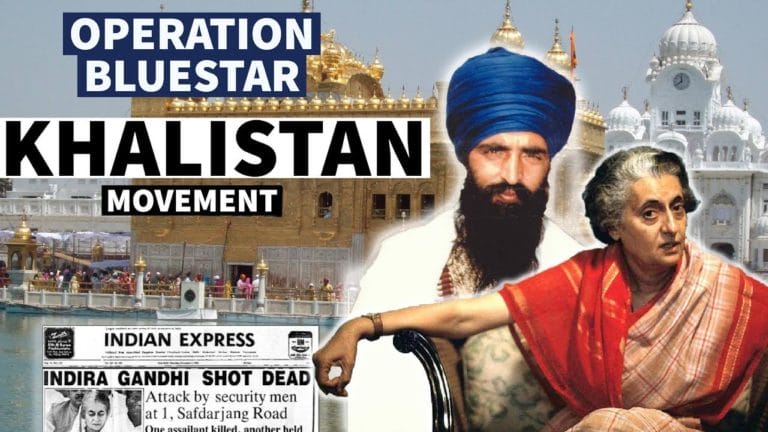 Where is Khalistan?
The definition in terms of boundaries of the proposed country which would be named as Khalistan will range from the region of Punjab to even the parts of states like Himachal Pradesh, Rajasthan, J&K. Also Chandigarh will be the capital of Khalistan if at all it is formed.
Do you want to see Khalistan Map?
Khalistan Map:
I was going through discussion on quora and I found proposed Khalistan Map:
What is khalistan issue?
After partition, it was noticed that a huge population of Sikhs had migrated frm the Pakistan's Punjab province to that of India's. It was after India's independence in 1947, the Punjab Suba movement which was led by Akali dal aimed to create a Punjabi majority region in India. After the Indian govt rejected the plan, they formed groups and did violent protests against the govt. due to which the partition happened in 1965 because of India-Pakistan war in 1965.
Khalistan referendum 2020 | A False Propaganda
Referendum-2020 for Khalistan as is being planned by a US-based radical group named Sikhs for Justice (SFJ) which is in support of a separate state of Khalistan, but then the Punjabi diaspora seems to be seized of the matter and is already divided on it. Gurpatwant Singh Pannun is the man behind  SFJ (Sikh for Justice) organisation and have filed referendum petition- 2020. They are in continuous process for punjab independence referendum 2020 for sikhs and it looks like that he is the only one who is working for referendum and rest are just filling the quourum.
On July 2016, Petition was filed by US based SFJ and they were managed to have only 80K signatures from all over the world which shows the validity of khalistan movement and as we knows, that all happen after 1984 riots so let's check out what happened in 1984.
So, we are already in 2020 and there is nothing like khalistan. It's just everyone wants justice on 1984 riots.
What happen in 1984 in punjab?
The Indian Prime Minister at the time, Indira Gandhi, ordered for the Operation Blue Star in 1984 to flush out Bhindranwale with his supporters and ordered to attack the Golden temple (which was totally wrong) and that damage was done to the holiest shrine of the Sikhs.
After which Indira Gandhi was assassinated by her two Sikh Bodyguards and it was after her death that there was a violent outburst all over the place forming the infamous 1984 Sikh riots.
At that point of time, Rajiv Gandhi said about riots "When a big tree falls, the earth shakes" and from there onwards, Gurpatwant Singh Pannun take the advantage of riots 1984 and built referendum 2020 for the justice of sikh's life.
Who Leads Khalistan? Khalistan Leader
Paramjeet Singh Panjwar remained the head of the remaining faction of the KCF as of 2008, and was listed at that time as one of the top 10 most wanted criminals in India.
Do Sikhs still care about Khalistan movement and wants separate nation Khalistan?
Yes, it's an obvious question "Do Sikhs support khalistan" and I want to quote answer of our Sikh brother Mr. Ajaeshwer Singh Chahal:
"It is not a simple yes or no answer. My fellow Indian sikhs, like me, love our nation and not for a second believe in khalistan. This pipe dream is only fomented by fringe groups in North America.
I am a student.
I am a sikh.
But above it all I am an Indian and a damn proud one."
Moving forward, Avinash Jatav said:
"Sikhs are and Sikhs will be the biggest patriot , bigger then a liberal Hindu .
No one is able to false this True."
Now, let me tell you one more thing: "Why the religion Sikh comes into existence?"
There was a time when Muslims groups attacked hindu brutally and Sikh (The Sardaar) comes into existence to save themselves, to save hindus, for protection of their land, the INDIA (to be united).
and Now, when everything is right, no sensible Sikh would support Khalistan because one knows that it does not make any sense to look at partition in terms of political, social or economic context. Sikhs are now completely integrated in the diverse multi-cultural social fabric of India, have sound political representation and are the most prosperous community in India (after Parsis who have a very small population).
Today, Indian Sikhs is working for some of the best software companies in the world in Bangalore or Hyderabad or work for some of the biggest financial firms in Mumbai or Delhi or set up a manufacturing plant catering to a market of 1.25 billion people.
Will a Sikh living in Khalistan be able to do any of the above? If anything, we Sikhs must take a look at Pakistan & learn that religion alone can not bind a nation together.
Going ahead, one asked "why can't be khalistan an Independent state?"
Read Vasu Syal (ਵਾਸੂ ਸਿਆਲ)'s answer to Why can't Khalistan be an independent state? on Quora
Khalistan Movement Today – Conclusion
It is for sure that there is certainly no way that Khalistan can ever be a real nation. This has to be also taken in mind that even if Khalistan was actually even made into a nation then also it wouldn't be able to survive for long if, there are nations like India and Pakistan. So it is highly important to point out that that Sikh referendum which is on the lines of Catalonia in Spain will not be successful now and also it should be noted that most of Sikhs will not support it as well. Thus, Khalistan is nothing but an unattainable dream of few peoples.
If you are belonging to sikh community or you have friends from Sikh family, do me a favour.
Right now, there are more than 50,000 searches daily on Khalistan movement and apart from "Sikh for Justice Group", "Dal Khalsa International", or most importantly, apart from pakistan, who are the guys showing interest in Khalistan?
let us know you opinion on Sikh's Khalistan Movement – is it still alive in 2020?