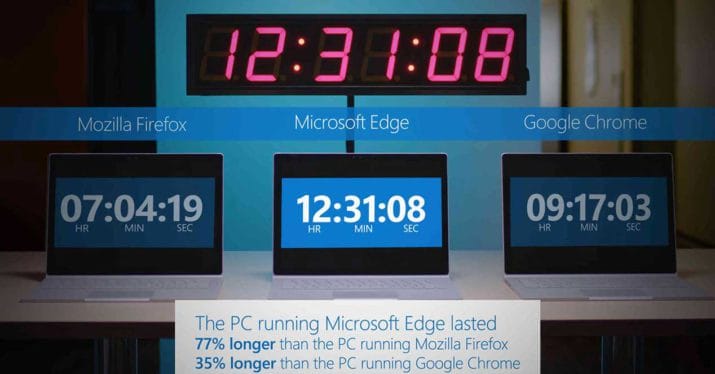 Last June, Microsoft released a video checking the battery life of four browsers by viewing the same video in different browsers: Firefox, Edge, Chrome and Opera. In that video it was demonstrated that other browsers comsume great amount of battery against Edge, which is shown as the best optimized.
Microsoft faces Edge, Chrome and Firefox on Creators Update
Now, Microsoft has returned to do the same test, but this time in fully updated computers to the latest Windows 10 Creators Update available since yesterday. This version has introduced improvements in Edge regarding the duration of the battery, and Microsoft has wanted to demonstrate it in a new video in which it compares Edge to Chrome and Firefox in the last build 15063 of Creators Update in Windows 10 Pro.
In this video we can see three identical devices, with the battery to the maximum, running a video in loop on Vimeo through WiFi. The results are quite consistent with what we saw last summer, but we see a change in the second and third place. These places are exchanged between Chrome and Firefox, which become second and third respectively. Edge's battery life was 35% higher than Chrome's and 77% higher than Firefox's. The duration of each browser was:
Edge: 12 hours and 31 minutes.
Chrome: 9 hours and 17 minutes.
Firefox: 7 hours and 4 minutes.
Not only is the battery the only factor that helps us to choose between a browser or another, because sometimes it is better to use Chrome with its extensions to do something more comfortable than doing it more limited for longer with browsers like Edge. However, if we are going to be performing a task like playing video for a while, Edge is postulated as the best option. In addition, the Microsoft browser is the only one that supports the 10-bit HEVC codec offered by Netflix to view content in 4K.
The devices used in this test had an Intel Core i5-6300U at 2.4 GHz, 8 GB RAM and integrated Intel HD Graphics 520 graphics card. It would be interesting to see how they would hold three equal computers with a Kaby Lake processor in the same task, since the Intel 7 series has hardware decoding of the HEVC codec. The versions of browsers used were Microsoft Edge 40.15063.0.0 Google Chrome 57.0.2987.133 (64-bit) and Firefox 52.0.1 (32-bit).
The other features to homogenize the test were: silence volume during the test, brightness at 75%, notifications, Bluetooth and location deactivated and the battery saving mode had to start working at 20% battery. In addition, each browser had a clean cache memory before starting the test.