In the information age, it is becoming more difficult to keep something secret. Although different firms strive not to reveal what they have planned ahead of time, leaks are inevitable. One of the platforms that leaks the most is GFXBench, where smartphones are going to be tested.
If only a few days ago it was the Huawei P10 that was strolling through GFXBench, today has been the turn of two highly anticipated phones, the Xiaomi Mi 5c and Moto G5. We have been able to confirm up to the last detail the majority of specifications of these two terminals, which could give much of themselves.
Xiaomi Mi 5c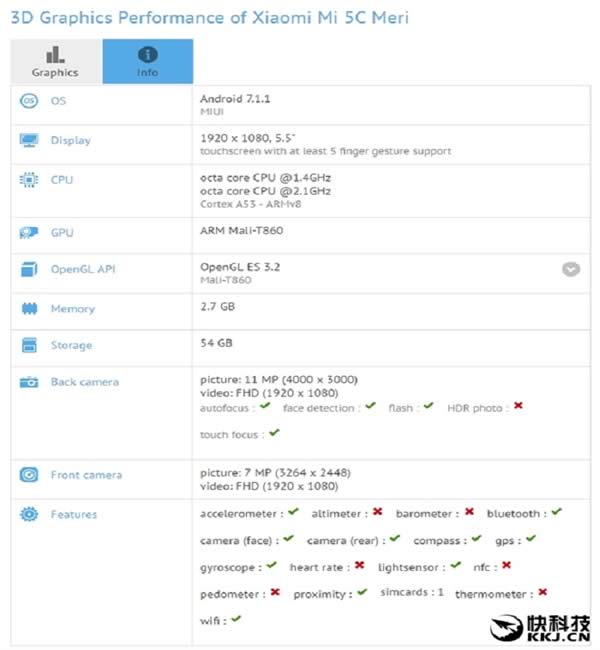 One of the most mysterious cases in the extensive catalog of Xiaomi is the Mi 5c, phone that we have been waiting for a long time. Although until a few months ago everything pointed to the Asian firm had abandoned this terminal, the recent flow of rumors seems to indicate otherwise.
If we take into account what we have seen in GFXBench, the Xiaomi Mi 5c would be a smartphone especially important for Xiaomi. The Chinese manufacturer could choose this device as the first of its line to carry the Pinecone V670 chip.
As for the other features, the Xiaomi Mi 5c would have a Full HD panel of 5.5 inches, 3 GB of RAM, 64 GB of storage and 12 and 8 megapixel cameras. The software section would be preceded by Android 7.1.1 Nougat under the MIUI customization layer in its eighth version.
Moto G5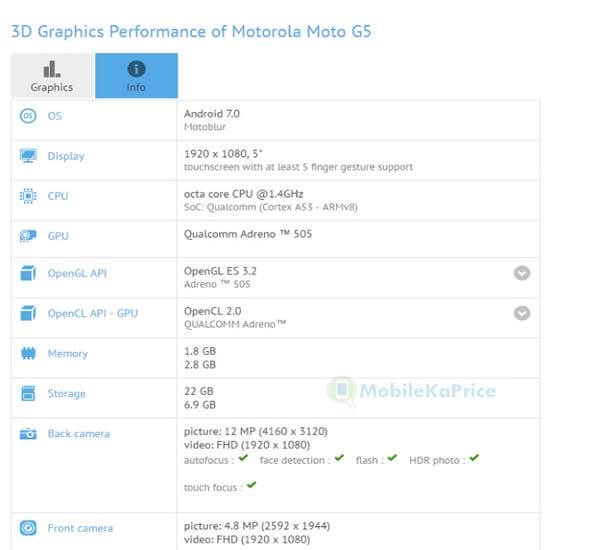 Much has been said in recent months about this smartphone. The phone manufactured by Lenovo has been the protagonist of a large number of leaks and rumors in which most details have been specified about it. However, until a few hours ago we had never seen a leak as detailed as that of GFXBench.
In the image you can see the supposed characteristics of the Moto G5, and it does not paint anything bad, at least on paper. If we trusted the leak, the device would have a 5-inch screen with Full HD resolution and the Snapdragon 430 1.4 GHz processor inside.
The section of memory would consist of 2 or 3 GB of RAM and at least 32 GB of internal storage presumably expandable through microSD. The rear camera of the smartphone will be 12 megapixels, while the front descends to 5 megapixels.
It is expected that both of the filtered terminals will be featured in the MWC 2017. While the Moto G5 is rumored to release on February 26, Xiaomi could unveil the Mi 5c two days later, on February 28.