Nokia's new mobile phones are the most anticipated in 2017. Its return to the market with Android has raised the expectation to a certain level, even with its new Nokia 3310 version. Today, we find out about the features of Nokia 9 yet again, but this time with 8 GB RAM.
The design of Nokia 9 has already been filtered completely all that remain is the confirmation that it will finally be as we have been able to see it, with double camera, a screen quite used but not like other mobiles, and a design that is not glass. Nokia seems to want to bet very strong this year but without risking too much as it would be crazy to do so in the first year they bet on Android.
The features of Nokia 9 let us see more RAM than the Galaxy S8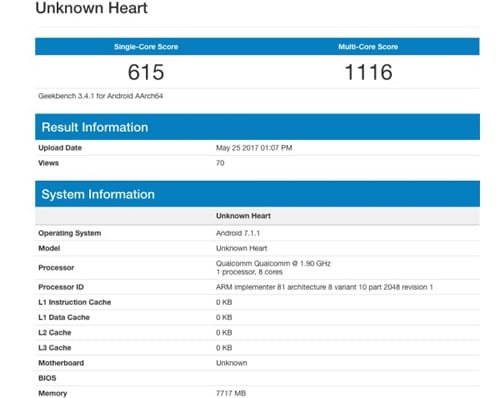 Many benchmarks have been leaked from the high end terminals, and a few days ago we saw the performance of Nokia 9, which would have the best performance over the current high range. Now we see the same thing again but in another benchmark and with totally different results which are worse.
As we have always said, this data has to be taken as a guideline as it does not have to mean that it is the performance or user experience of the smartphone but from time to time it does leave us with some characteristics that we did not know about. However, in this case we see a completely different specification to those previously filtered.
In this benchmark we have some quite remarkable differences like we are seeing a mobile that has a very low score in the Single Core and Multi Core, which could mean that Nokia is preparing a Lite version of its Nokia 9. However the most striking thing is, despite having a much lower power, it bet for 8 GB RAM, an amount that is not normal for a high range much less for a Lite version of a high range mobile.
Perhaps the company is simply testing some features on this mobile or wanted to see how those 8 GB RAM worked in a much less powerful mobile. There is also the possibility that this mobile is a new one of Nokia oriented for the midrange but they also wanted to prove in some prototype how far such an 8 GB RAM would go. The only thing left to do now is waiting for some more information to filter or for Nokia to unveil their new phones.