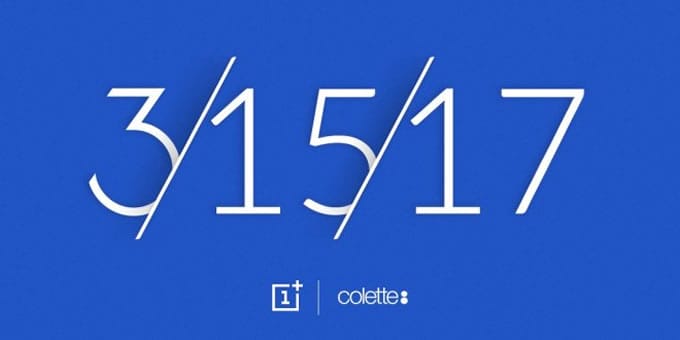 OnePlus filters a mysterious date with possible presentation of accessories. Currently the OnePlus 3T is on sale with 64GB of storage in gray (Gunmetal) or gold (Soft Gold), although with 128GB is only available in the first of the colors.
However, soon we could see a new color. A tweet sent by the manufacturer indicates that on March 15 we will see something new fruit of the collaboration between OnePlus and Colette Paris.
Something is about to go down with @oneplus & @coletteparis – stay tuned. pic.twitter.com/Z9ETg7ach5

— OnePlus (@oneplus) March 13, 2017
The Chinese manufacturer famous for smartphones as the OnePlus 3T, the latest model to go on sale, changed a few minutes ago the color of its logo in social networks filtering an image with a date: March 15, 2017. There is also a mark in the image: Colette, famous French design firm specializing in fashion and accessories.
We still do not know what will be presented this Wednesday, March 15, but surely it is a set of accessories for the OnePlus 3T or its model with a blue color. It covers, a special edition of your headphones or even bags and backpacks. It is not the first time that OnePlus dares with the fashion accessories. And partnering with the design firm Colette would serve to offer a different and distinguished style.
Colette is a fashion brand and accessories, and given that the message is written in white on a blue background, it seems reasonable to think that we could see a blue OnePlus 3T. In addition, the OnePlus logo has been colored on Twitter.
Another possibility is that OnePlus has partnered with Colette Paris to market an accessory, such as a smart watch or a pair of goggles, but it seems unlikely that OnePlus will enter that market.