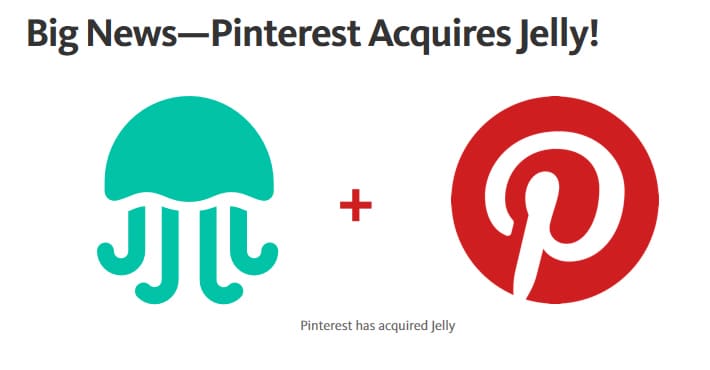 Jelly, the Q & A created by Biz Stone, has been acquired by Pinterest, Stone said in a statement.
The note did not reveal details of the agreement, although it is known that Stone will become special adviser to Pinterest's product manager, Evan Sharp, while Jelly's technology director, who is also co-founder of Platform, Ben Finkel, will join the team of growth products of Pinterest.
Stone points out that he has followed the same advice offered to investors, as he was about to perform at Jelly. He also considered the offers of acquisition that were on the table, among which was Pinterest. In a meeting between the two parties, they have been able to discover that they have common interests focused on searches.
And so it has today the acquisition of Jelly Industries was made, the platform of questions and answers that throughout these four years has changed of focus until in three occasions becoming finally a search engine in which it has counted on the collaboration of the users by means of their participation contributing their knowledge to the available questions. For the moment, the future of the Jelly service is a mystery, as it is not yet known whether it will be integrated into Pinterest or will continue to function independently.
Stone ends his ad showing his enthusiasm that the acquisition is the best decision for the future of human search and discovery. In this regard, Evan sharp points out from Jelly's team that his focus on exploratory pursuit driven by technology blending and human selection is closely aligned with Pinterest's own vision.
It is only necessary to observe how the link of this acquisition develops. To point out that Biz Stone is not unknown to Pinterest since, as they point out, he is also an angel investor who has put money in Pinterest years ago, hence he may have preferred to enter into conversations with Pinterest managers in a preferred way.
Source: Jelly Blog