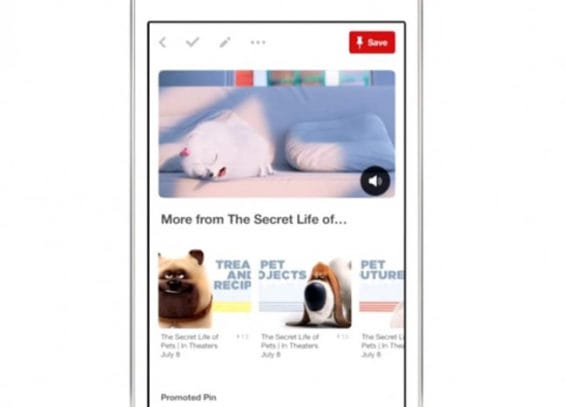 Pinterest is pushing video ads more and more in order to compete in this field with other companies like Facebook, Snapchat, and Twitter that have been using these formats for years.
In addition to the series of updates that it has made last time in the platform, the equipment of Pinterest continues working in its new business model.
The social network has introduced video listings in August 2016 while the autoplay video ads tests began in November in the Explore section of the UK and USA with trademarks such as American Express, The Home Depot, Macy's, Universal Pictures, Visa, Procter & Gamble, Toyota, L'Oreal and Adidas.
Last August this model was implemented between users in the United States and the United Kingdom, so they could already see the video ads when browsing a special section.
In November, the team took it a step further, as video ads became automatic playback, further enhancing the dynamics and giving a bonus to the partners that accompany Pinterest, although still as a pilot test.
Now this type of advertising will also come to other sections of the platform, including the home page and the search results page. In the coming months, autoplay video ads will be available for advertisers in the United Kingdom, the United States, Canada, Ireland, Australia and New Zealand.
Other platforms like Twitter or Facebook have already harnessed the potential of video content for quite some time now so as to turn it into the star advertising format. Pinterest is slowly adding to this modality, although now it has become one of the key factors in achieving its financial goals.
Maelsen Mobile Digital Ad Ratings and Moat will be involved in measuring campaigns with autoplay video ads, joining other Pinterest measurement partners, namely Millward Brown and Oracle Data Cloud.