Mahendra Singh Dhoni has always remained a favourite captain among people, even at the age of thirty six, he seems fitter and faster than players who are even  10 years junior to him,so surely Mahendra Singh Dhoni is irreplaceable in the ODI team of India right now, and even the national coach of indian Cricket team, Ravi shastri, who has asserted that critics should perhaps analyse their own careers at 36 before they start to find faults in the former captain.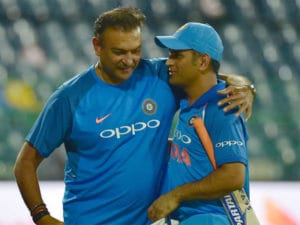 "We are not stupid. I have been watching this sport for the last 30-40 years. Virat has been a part of this team for a decade now. We know, at this age, he (Dhoni) can beat players aged 26. People who talk, forget that they played the game," Shastri had told a news channel.
It is clear that Dhoni has really sharp reflexes behind the stumps which is still of unmatched qualityand chief selector MSK Prasad made it clear that none of the younger guys have quite yet matched up to the level of our game-changing ex- captain, under whose leadership India had won two World Cups. The sentiment was also echoed by Shastri, who has always been vocal in defending Dhoni in the past. This time he said,"If they look at themselves in the mirror and ask the question, 'what they were at the age of 36?'. Would they have run two runs faster? But the time they finish two, this guy will run three. Then he has won two World Cups and averages 51. Till today you don't have a wicket-keeper to replace him in the one-day team."
Shastri had also said that Dhoni's skill-set is a rare and not easy to find and it would surely take some time before a replacement could be done.
Ravi Shastri said, "He is still one of the best around, not only in the Indian team, but in the world. Some of the things you see with him are not sold in the market. You will not get it anywhere else," he said. "The fact that he does not play Test cricket, means he should be playing as much cricket as possible till the World Cup in 2019."
Ravi Shastri had also spoken about the upcoming tour of South Africa, which will be starting with a Test series of  three-matches begining from January 5. The team is also scheduled to depart on December 27 and will aim to secure the first Test series triumph on South African soil.