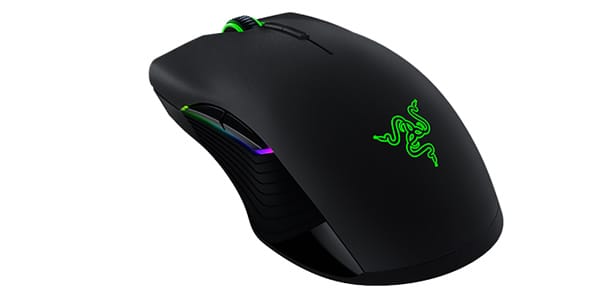 Razer, the manufacturer of peripherals specialized in gaming products, has just released its new Razer Lancehead wireless mouse. This mouse is manufactured in a standard edition as well as a Tournament Edition. The new Razer mouse boasts of being able to be used anywhere, thanks to it being wireless and to its AFT technology that improves signal reception.
We all know that if there are two concepts that have never gone hand in hand are "professional player" and "wireless" and for good enough reason. That reason being, when playing using a signal of radiofrequency, it always tend to introduce latencies that is caused due to the intensity of the signal. All this can vary for many different reasons such as the distance between the receiver and the sender or how cloudy the day is (No! Don't look at me like that, it really happens). That's something you do not want, especially if you are a professional player, as it is introducing latencies in your game which can make you lose a decisive play.
AFT technology changes everything
Razer has developed a new technology called Adaptive Frequency Technology (AFT). It ensures secure and continuous wireless signal stability by not only synchronizing data between the mouse and the user's PC but also connecting to the strongest frequencies without any Interference within its 2.4 GHz band and adaptively changing it when needed. The result obtained is the best possible data transmission between the Razer Lancehead mouse and the PC that surpasses any mouse in the market today.
Having one of the most accurate optical sensors also helps
Additionally, it comes with a 5G laser sensor that allows up to 16,000 DPIs, 210 inches-per-second (IPS) tracking and 50G acceleration. When speed and accuracy are the factors between victory and defeat, the Razer Lancehead provides a definite advantage to win.
The new Lancehead is equipped with the new Mechanical Mouse Switches, co-designed and manufactured by Omron. These new switches have a lifecycle of 50 million clicks and are optimized to provide fast response time on activation. Also, it comes with 2 DPI buttons to change the sensitivity at the moment's notice and not lose an instant of action in the game.
To heal a little in health, Razer has also released a Tournament Edition that is the same mouse as the wireless but a wired version.