13 June 2018 Update: Sena jal is something every Indian waiting for but still, it"s not available for normal Indian citizens and only available to Indian Armies. Here is a truth in nutshell about Sena Jal:
21 September 2018 update: It's almost 9 months had gone and no one talking about Sena jal. Are Indian companies failed to compete with international mineral water companies? The Sena jal was really a great initiative by AWWA organisation but unfortunately, it couldn't get successful. Is Sena jal will come back to India or any other domestic company will bring the similar water bottle at low cost in future? We will give you the timely update about the Sena jal or related faqs.\
But we have sent letter to Prime Minister Narender Modi about the success of Sena Jal campaigning and told them – "how much craze is in people for sena jal and how eagerly public wants sena jal and sena jal distributorship." We are waiting for their response and let see what"s next? You can bookmark this page for more updates.
— Lower section will let you know about various other thing such as how to contact awwa organization, what could be the way to get distributorship and so on. —
Anywhere your are in India we recommend you to use only (Sena Jal) Army Water Which cost you just For ₹6. It's packaged water bottle inaugurated Wednesday, October 11,2017 and from then to now, they are updating their services from time to time.
Why Purchase 20 Rs/- Aquafina or Bisleri when Sena Jal is available @ Only 6 Rs/- Bottle.
Sena Jal is Made by our Indian Army Families.
AWWA Organization Initiative
The Profit of these Sena Jal water will go towards the welfare of soldier & war widowse Association (AWWA). They are also offering #SenaJal for 10rs in which you can drink along with your family means 10rs Bottle will be more than sufficient. Use #AWWA to support their initiative.
What is AWWA Organization?
AWWA it is an invisible hands to Indian Army. It is one of the largest voluntary organizations in India that has charted its course for fulfilling the societal obligation through social empowerment and skill building of spouses and dependents of Army personnel. AWWA aims at the holistic development and well-being of Army Wives including their children and rehabilitation of war widows and differently-abled children.
Sena Jal Packaged Drinking Water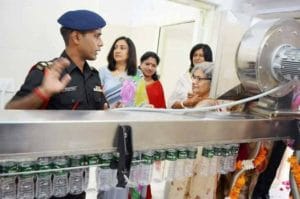 Next time If you are going to purchase a water bottle, we highly recommend you to go for a Sena Jal instead of Aquafina/Bisleri. It's the Least we can do from our side to support our army.
How to Get Sena Jal Dealership or How to become Sena Jal Distributor in your Location?
Either you are in Haryana, Punjab, Uttrakhand or any other Indian Location, Sena Jal could be available at your location and it's very easy to reach the organisation behind sena jal.
You can visit AWWA Organization for getting their official address or else you can call them directly on TELEPHONE: 011- 23018183 and if you want to mail them, you can shoot your query here: centralawwa@gmail.com
Realy very good initiatives by Army Wives Welfare Association collected money will be used in the very noble cause of #IndianArmy.We feel great honor to purchase the bottle. It's almost 3 month of Inauguration and I hope, we will be able to tell this all over Indian Community.
Ask for #SenaJal instead of Bisleri & Aquafina. Share it on your facebook and whatsapp profile and if you are active at twitter, don't forget to tweet it with the hashtag #SenaJal.
See More: Is Khalistan Movement Still Alive– See Latest 2018 Hilarious Reactions from Indian Sikh.
You can check out Rahul Kedia Video on Sena Jal | Help Indian Army & Support by sharing with your lovely ones.
Share & Support #Sena Jal Video

How to contact Army Wives Welfare Association  (AWWA)?
I understand it's hard to connect with them on Phone and Email ID but if you are nearby Delhi or you could visit Delhi for getting Sena Jal & Other Products Distributorship, then here is official address of AWWA organisation.
[sociallocker id="6888″]
AWWA SECRETARIAT210, SOUTH
BLOCK INTEGRATED HQ OF
DEFENCE(ARMY) DHQ,
PO, NEW DELHI – 110011
TELEPHONE: 011- 23018183
FAX: 011- 23012897
EMAIL: centralawwa@gmail.com
WEBSITE: www.awwa.org.in
We are trying to connect with them and as soon as, we will get more updates – we will keep you informed.[/sociallocker]
See More: If you are using the smartphone more than its actual use, then it could be disastrous for you. I have covered a latest article on "Mental Health Crisis due to overuse of Smartphone". I recommend you to look at this website so that you can save yourself from such mental crisis.
We Request everyone to purchase Sena Jal whenever possible. We are not the ones who said people to share any God's image with 10 persons but it's genuine note and when it's genuine, this news must be shared to all our friends and relatives.
Please share it as much as possible to support our great Indian #Army. Also, the latest update about this news will be shared in this post so you can bookmark this page to know the progress of #SenaJal
Guys, congratulations to all of you. Once after covering this news by HitechGazette, this news is published in almost many news website such as Jansatta, Amar Ujala, Financial Express and supported by you on many social media networks.
Social Media Response on Seva Jal Water
Here are few tweets I would like you to share with my audience: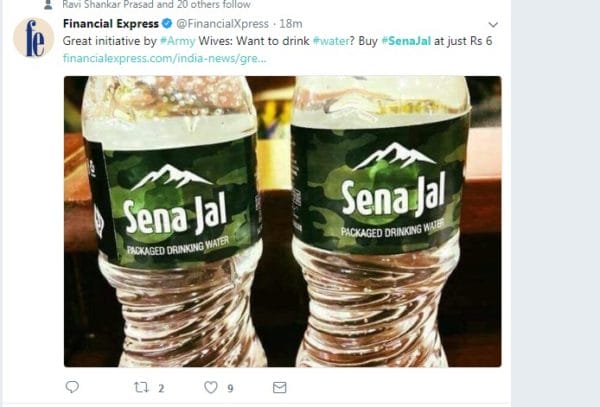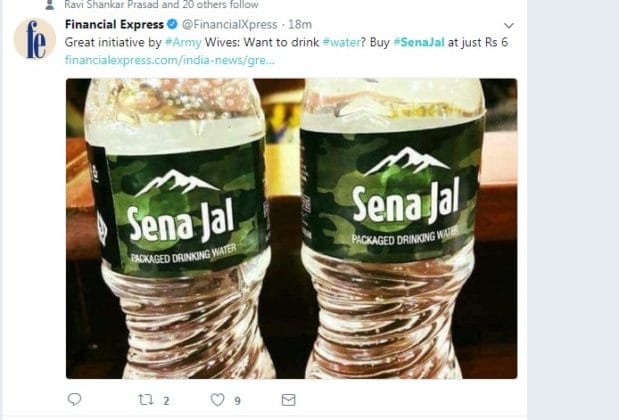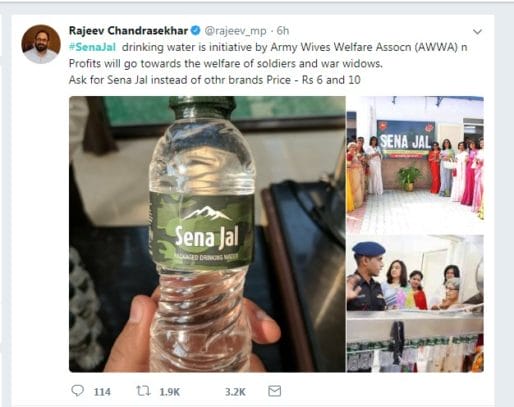 You can share our post on your social media and give us image. We will be more than happy to feature your post with our audience too.
Support #SenaJal
Sena Jal Images:
You can pick any of the above image or you can share our post to let the other knows about Sena Jal. If you asks for #SenaJal – Someone will avail that for you too. Your demand becomes the power & support of Indian Army.
Thanks for Supporting Sena Jal Water
#SenaJal Water got so many overwhelming responses from the public and that's the reason we keep trying to connect with the organization behind sena jal water. Sena Jal water was inaugurated on October 11, 2017 but no media houses published that news. After knowing this news by us, we decided to publish it on our platform and believe me it's the best post we have written ever on High Tech Gazette Website.
Our article "Sena Jal Water" got almost 100+ public comments, 10+ emails and even 2 person reach to me on FB in which we got few common questions like:
Sir, I live in Himachal, Navi Mumbai. Can you please let me know the way to get dealership from AWWA Organization.
Can I get Sena Jal from our local vendors?
Awwa Organization is not answering on mail & calls so what are the other ways to connect with them?
So on…!
Let me tell you, AWWA Organization is working on their manufacturing plant of Sena Jal Water Bottles so one needs to wait for their announcement.
By understanding this, We "HiTechGazette Members" are looking for their next updates and as soon as we got any response, we will mail that update to you.
On the other hand, if you are interested in starting a business in another country, we can recommend you company formation in Singapore, Dubai and Netherlands. And you know what, you can open a company in Holland right away.
Issues with Sena Jal that needs to be solved by AWWA Organization:
Today, I was following #SenaJal on twitter and found people are waiting for sena jal in their location and even, many of them want vendor ship for Sena jal.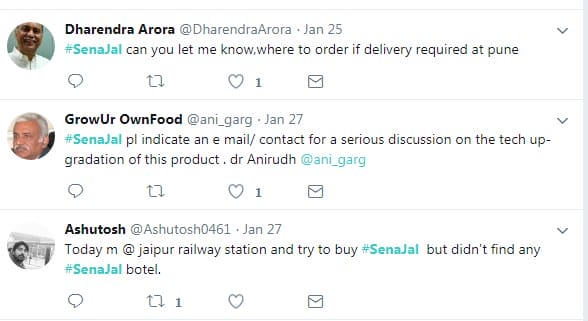 In case, you are interested to join #SenaJal Movement, you can comment us below this post or you can share this article with the hashtag of #AWWA #HTG #SenaJal #IndianArmy. Also, if you want to be Sena Jal Volunteer, You can visit AWWA Organization address.
Update: As soon as Sena Jal will be available in local shops, hotels & AWWA Organization respond, we will get back to you with exact information so keep bookmarking this page.
Official Update by AWWA organization regarding Sena Jal:
As we already told, we are continuously trying to contact with AWWA organization and finally, we got response from AWWA official regarding #SenaJal.
What AWWA Official said regarding sena jal?
Yeah, they are running nonprofit organization named "Sena Jal" but right now, sena jal is available for Indian Army only. On 24th Feb, 2018 AWWA officials said, "Sena Jal is an initiative by Indian Army Wives but their services are available only for Indian Army & Sena Jal services is available at army camps only."
He also added, "Whenever Sena Jal will be available for normal citizens, we will keep you updated and pass this news to all Indian Media".
Now, we need to wait for availability of sena jal for indian citizen and then we could look for other option to support our Indian army.
We are just waiting for their Sena Jal in each and every location. If you have any question, please let us know in the comment box. Jai Hind