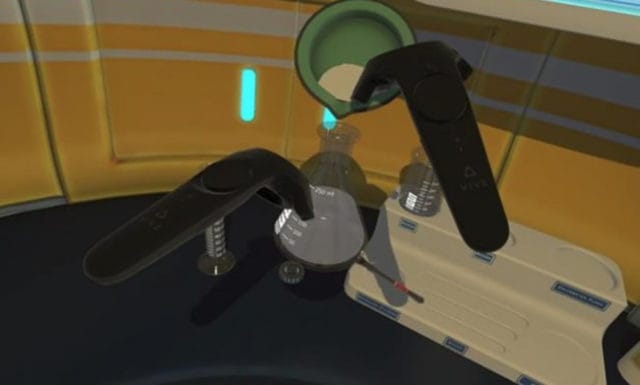 Both Augmented Reality and Virtual Reality have many applications in the academic world. For years we have seen applications appear that shows extra information in textbooks, or explanations in museums that float on paintings and works of art in general.
Today is the turn for the world of chemistry.
This is an app called SuperChem VR, an application that allows students to perform typical laboratory activities by manipulating virtual instruments while wearing virtual reality glasses.
It is a virtual chemistry lab that has been supported by the Education Science Institution (part of the US Department of Education) and the Small Business Innovation Research Program (SBIR). It allows students to work safely in a laboratory environment without investing in real laboratory equipment, being possible from measurements to learn real laboratory procedures.
In the video it is possible to see the trailer of the application, where you can see things from chemical dispensers to conical flasks and measuring cylinders, although in general they boast of futuristic laboratory, to match the technology used.
Using these types of apps students can now learn a lot about chemistry and also perform various experiments without fear of making a misstep and blowing up the lab, so to speak. This way a student can learn all that is possible without spending that much amount of money on equipment required to perform experiments. Using this app, student never has to worry about running out of resources or breaking lab materials or anything like that.
Just imagine how fun learning chemistry could be if you don't have to worry about making a mistake by adding two chemicals that may have a bad reaction. Now with this app you can experiment with all that you want to see what the results are and learn from it. Therefore, we think it's a great way of learning chemistry and could be a lot of fun too.
The game will be available for HTC Vive, but at the moment its price has not been disclosed. You can see more captures on the project website.