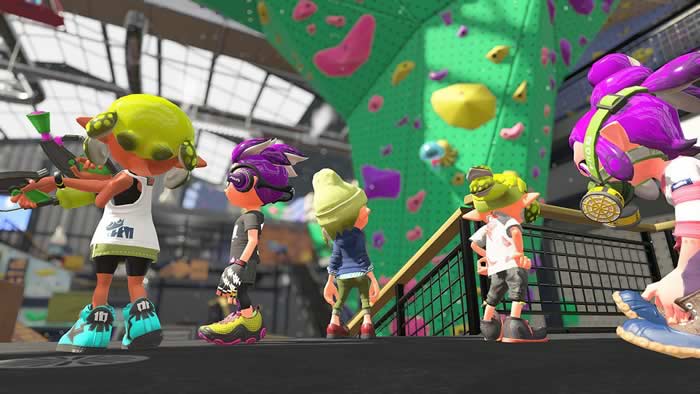 The official account of Splatoon has shared images of one of the new scenarios that users of Nintendo Switch and 'Splatoon 2' can play from the summer of 2017. This new scenario we could already see briefly in the trailer of presentation of the game during the Nintendo Switch: January 13 2017 presentation.
It is a sports center where the inklings, and the rest of creatures that coexist in this colorful. but post-apocalyptic world perform all kinds of healthy activities. Among them, we cannot miss the ink battles between teams formed by four inklings per side.
Splatoon 2 sports club map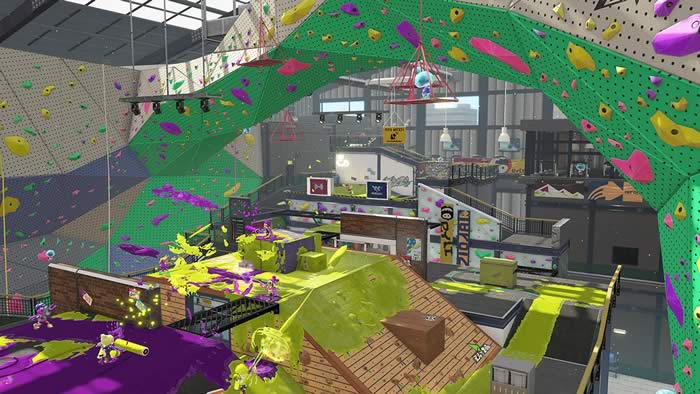 This sporting and battle center has been christened in Japan as the Barnacle Sports Club, a fairly accurate name because most of the walls of the center are covered with colorful protrusions to climb, a clear reference to the barnacles which in the sea cling strongly to the rocks.
At first sight, the design of the map seems quite complex, and that facilitates multiple tactics and ways of dealing with the different adverse situations that may arise. The base will be in an elevated zone with a zeta-like way of passage to give way to a smooth area with several walls. In the middle, an elevation of wood, again with obstacles connects to the rival territory through a grid bridge.
Nintendo describes the level as follows:
Climbing walls, a swimming pool, exercise machines and sports equipment. All this is present in this new sports center. For quite a while, rather than performing fitness exercises, other, more "stoic" exercises have become fashionable.
Splatoon 2 will go on sale worldwide in the summer of 2017 and will be available exclusively for Nintendo Switch.
新たなステージのひとつ、「フジツボスポーツクラブ」。
ボルダリングの練習場やプール、ランニングマシンなど、さまざまな施設がそろった最新のトレーニングジムだ。
最近は、シェイプアップ目的のトレーニングより、ストイックなワークアウトが人気を集めているようだ。 pic.twitter.com/M93qoTurSR

— Splatoon(スプラトゥーン) (@SplatoonJP) January 27, 2017