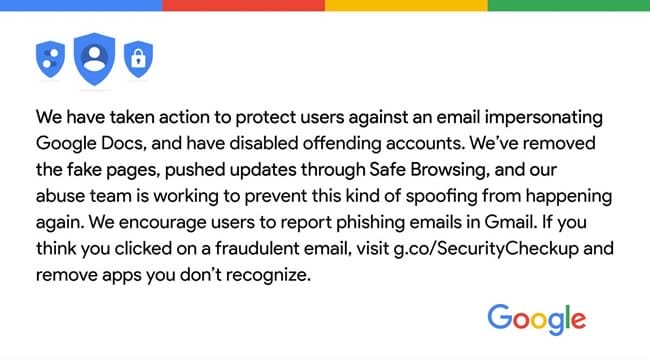 In a particularly timely update, Google is implementing new protection against phishing links in its Gmail app for Android. Attacks that seek to supplant the identity of a particular company to spy on users have long since increased, and Google claims that its mail service will not be used to do so.
Phishing or phishing is one of the biggest dangers faced by users when surfing the Web. Smartphone users, in addition to the dangerous exposure to Malware are one of the groups most vulnerable to these attacks that are characterized by fraudulent attempts to acquire confidential information (such as a password, detailed information about credit cards or other private information).
We are investigating a phishing email that appears as Google Docs. We encourage you to not click through & report as phishing within Gmail.

— Google Docs (@googledocs) May 3, 2017
We all know, and even have been caught in the trap of cyber-criminals posing as a trusted person or company through an apparent official electronic communication, usually an email. That is why Google has put to work and now offers additional methods of protection through the Gmail app for Android.
According to the information provided by Google, when a user clicks on a suspicious link, he/she will get a warning such as the one shown below, revealing that this could be a phishing attempt or that the user is being referred to a counterfeit website. While not all emails affected will necessarily be dangerous but it is recommended to be very careful when clicking on the links of messages whose origin is not entirely clear. Something that Google has intended to emphasize on with this new Gmail tool.
This ad coincides with the appearance of some suspicious-looking emails in Gmail in the last few hours. These malicious messages come from trusted contacts, asking them to open a Google Doc. As soon as the recipient clicks, permissions are requested to an application that mimics Google Docs, that is, the ability to read, send, delete and manage email, as well as manage contacts. In this way, the attacker has effective access to users Gmail.