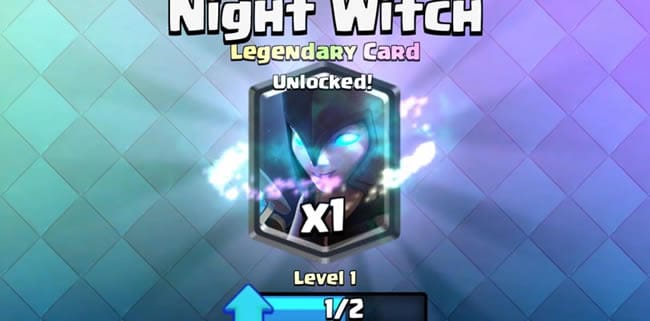 The wait is finally over, the Nightwatcher's challenge is now available. The day begins where all the Clash Royale users go crazy trying to get the new legendary card of the Night Witch, which will definitely reach the game on June 1st.
The challenge will be available until May 29 and possibly it will give a free first attempt, then from second attempt onwards it will cost 100 gems per attempt. This challenge will consist of an inner challenge of choice, that is, before the game each player will have to choose four times between two cards, staying with the chosen and receiving the opponent as the rejected one. Now comes the first interesting twist which is that the Night Witch will always be one of the cards that have to choose one of the players. Users will fight to get as many wins as possible before losing 3 losses, at which point they will be thrown out of the challenge.
How many wins do you need to get the Night Witch?
To get the Night Witch you have to win virtually all Clash Royale tournaments, you have to win a series of victories to win the final prize. In this case it is 12 combats that you must win to get the epic card for your deck.
Along the way you get small prizes for accumulating good results. They are the following:
Two wins: gold box
Four wins: 8,000 gold coins
Six wins: magic chest
Nine wins: 25,000 gold coins
Twelve victories: Night Witch
Supercell offers more than interesting prizes to play and get victories in this event. First, when we win 2 wins we will get a gold casket and when we get at 4 wins then we will receive 8,000 gold. In case we get the 6 and 9 wins then we will win a magic chest and 25,000 gold respectively. Finally if we are lucky enough to get to 12 victories we will get the grand prize, unlock the Night Witch and thus having the chance to play in a safe. In addition we will receive 11,000 gold and a chest with 550 cards.
There are only 5 days left for us to enjoy the desired Night Witch but for all those who cannot wait and want to fight for these prizes, this challenge is a golden opportunity to play Clash Royale this weekend.
Also read about the new arrival of cards in Clash Royale.