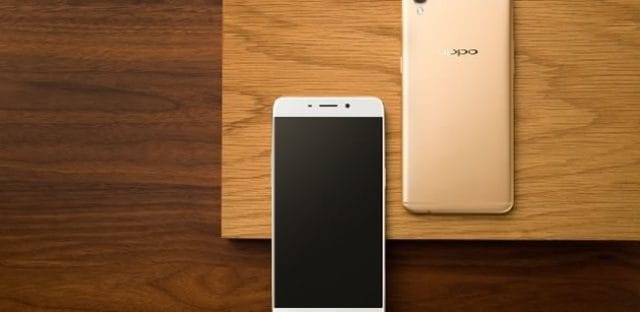 OPPO with its limited market reach has experienced tremendous growth over the past year. The latest Strategy Analytics report revealed that the OPPO R9 is the world's best-selling Android smartphone, which has surprised many people, even though much of its market is on the eastern ground. Now all eyes are on Oppo R11, which as anticipated by the brand has just appeared on AnTuTu.
Among the Oppo smartphones found in the company's catalog they have smartphones of all ranges and adapted to all types of budgets. According to the filtered characteristics this last Oppo R11 would be included within the high range of the Chinese mobile firm and would come accompanied by, a more than possible, Oppo R11 Plus.
There is no doubt that the brand is looking at Apple not only when launching and naming their products, but also when designing their smartphones. A few days ago we already published the first images of the Oppo R11 that anticipated lines and forms more than similar to those of the iPhone 7 Plus, including the front camera lodged in the back of the phone.
Precisely with regards to this double camera the company has already announced that it would be the best viewed in the market but to check that we will have to take a look at the specifications leaked in AnTuTu.
Possible Oppo R11 Features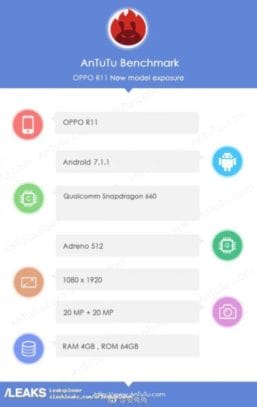 Finally, it seems that the configuration of this double rear camera will be two sensors of 20 Megapixels. In the MWC 2017, Oppo unveiled its latest camera technology called "Oppo 5x Dual Camera Zoom System". With this new technology, the device can offer 5X optical zoom without loss of quality but we cannot know if the Oppo R11 camera will boast this technology.
However, what we do know is that OPPO R11 can come with a 5.5-inch AMOLED screen with Full HD resolution (1920 x 1080 pixels). Under the hood, we could see the recently announced Snapdragon 660 processor, an octa-core CPU with an Adreno 512 GPU and Bluetooth 5.0 support. Captured image in AnTuTu also indicates that the operating system would be Android 7.1.1. Nougat.
As for the RAM of the device everything points to it being 4 GB, while the internal storage amounts to 64 GB, although at the moment there is no way to know if it will include MicroSD card slot with which one can expand the memory.
At the moment, there is no specific date for the presentation of this Oppo R11 or its larger variant, the Oppo R11 Plus.