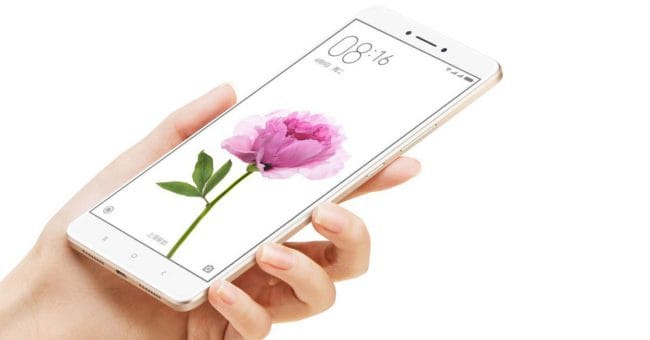 A week ago we saw the first leaks of what would be the new phablet of Xiaomi, and today, we know more characteristics and the price of Xiaomi Mi Max 2. We will review everything Which has been unveiled today in this leak.
We are now getting enough details of what Xiaomi terminals would look like. Today we saw that the new Xiaomi Mi6 would carry an iris scanner on the front in the filtration that has been on its design, and now, we have news about the very special and unique high range for Xiaomi.
Features and price of Xiaomi Mi Max 2
The features we have seen of the Xiaomi Mi Max 2 are about the camera and processor. As we see, this terminal could carry a 12 megapixel camera with a Sony sensor, exactly the IMX 378, the same as the Mi5s, so we expect a very good camera.
Its processor, would be one of Qualcomm, the Snapdragon 660. Apparently already Xiaomi in a few high price ranges decide to bet on Qualcomm processors instead of MediaTek. Now about the most interesting part, the price of the Xiaomi Mi Max 2. This terminal will be mid-range, although its hardware and design may belong to the a high mid-range.
The price of Xiaomi Mi Max 2 would be 1,499 yuan, which would change to $ 217 for the cheaper version and $ 250 for the more expensive version. This would be a fairly balanced price for someone looking for a fairly large device, and following the same line as the last generation.
The screen of the Xiaomi Mi Max 2 will be 6.4 inches, with FullHD resolution, 4 GB of RAM and 32 GB of storage. Its design is probably metal, like last year but it will improve the materials and will have a fingerprint sensor included.
At first glance, in what we know of this new terminal, it is seen that it will be a very good evolution compared to the original Xiaomi Mi Max, and that the price of Xiaomi Mi Max 2 will be quite in line with what we are currently seeing with Xiaomi and the Max range. We will have to wait to see when it comes to the market, because, for the moment, we do not have any news, although surely before its presentation, a real image is filtered showing all its design.