HTC is one of the brands that need to reign supreme in the smartphone market. We saw how two years ago, HTC had its worst year in a long time due to HTC One M9, a terminal that had a very serious warming problem, but today they have somewhat managed to hold their in this competitive market. HTC will launch its new smartphone this year and these are the possible specifications of the HTC 11 that have been leaked.
One of the things that HTC needs to reinvent itself is to lower the prices of its devices. We have seen how in recent years, even its mid-range or low-end terminals, were priced well above the its competitors mobile, which meant that it was never really a good choice in its segment. Hopefully this year will change things for the Taiwanese company.
Filter of the possible specifications of the HTC 11
We are at a time when mobile filtering is ongoing, as the Mobile World Congress is very close, and many companies are going to introduce new mobile phones. One of them is HTC, which supposedly will present the HTC 11 in this fair.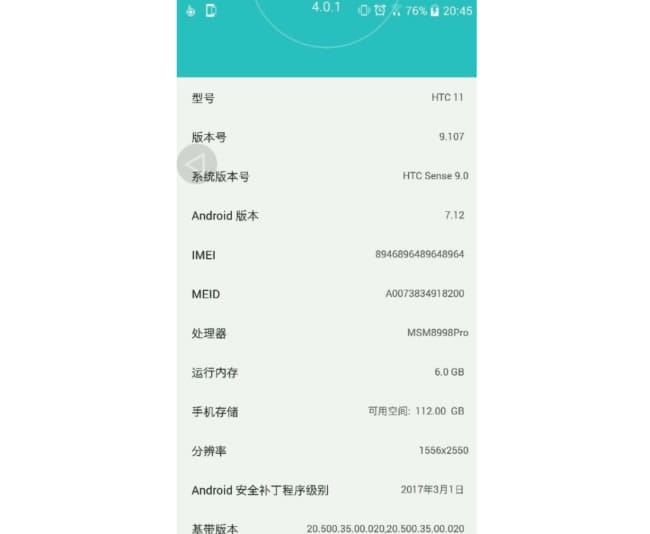 This year, we have already seen how they presented the HTC U Ultra and U Play, for the high and mid range, respectively. These terminals looked very good, but HTC again sinned of the same, and put prices quite high for what they offered. Today, it is the specs of the HTC 11 that are leaking, so let's see what HTC has to offer this year.
According to this image that has leaked, the new HTC 11, would arrive with SENSE UI 9.0, based on Android 7.1.2 Nougat, with a processor of Qualcomm that, according to the model, would not be the same as riding the Galaxy S8, that is, the Snapdragon 835.
The terminal would have 6 GB of RAM along with 128 GB of storage, with a resolution similar to the QHD. This terminal would be HTC's target for the high end, and as it will be presented at the Mobile World Congress, will not have the Snapdragon 835 not yet being prepared.
Will the HTC 11 be able to revive the company?
Every time HTC pulls out a new terminal, the debate comes back on whether this is the terminal that can re-route the company to good results. It was said with the HTC One A9, with the HTC 10 and the U Ultra, but apparently, none have been able to do this task.
HTC has to do something because otherwise, in the next few years, all brands will be above them, since its terminal offer poor value for money.