An algorithm developed by researchers at Stanford University proved more effective than human radiologists in diagnosing cases of pneumonia. Much research has been shared on the potential of Artificial Intelligence applied to medicine, and in some cases, can reach a level of accuracy that exceeds the performance of professionals.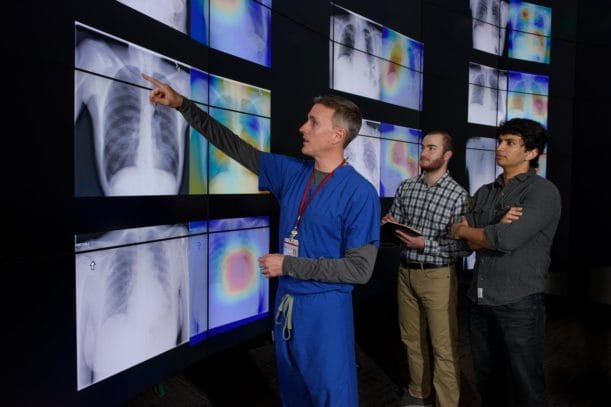 Following this line, Stanford researchers published a document on CheXNet, the convolutional neuronal network, which they developed with the ability to detect pneumonia symptoms. To do this, he uses the traditional method, chest radiographs.
It works with 112,120 images of chest X-rays referring to 14 types of diseases. The algorithm was created to facilitate the difficult task of diagnosing pneumonia.
"We are interested in the development of machine learning algorithms that can learn from thousands of diagnoses from chest x-rays and make accurate diagnoses,"
writes Pranav Rajpurkar, a graduate student in the machine learning group at Stanford University.
The researchers worked with Matthew Lungren, assistant professor of radiology, to develop the algorithm. Under his supervision, four Stanford radiologists have made notes on 420 chest x-ray images to detect pneumonia. Within a month of operation, the algorithm could diagnose the disease more accurately than human professionals.
According to Lungren:
"The motivation behind this work is to have a deep learning model to help in the task of interpreting images to overcome the intrinsic limitations to perception and human bias, and reduce errors."
The researchers responsible for the study have also developed a computer program that generates a kind of heat map on the chest x-rays of patients to facilitate the diagnosis of pneumonia. The objective is that it can help detect the disease in places where there are no radiologists to attend to the people.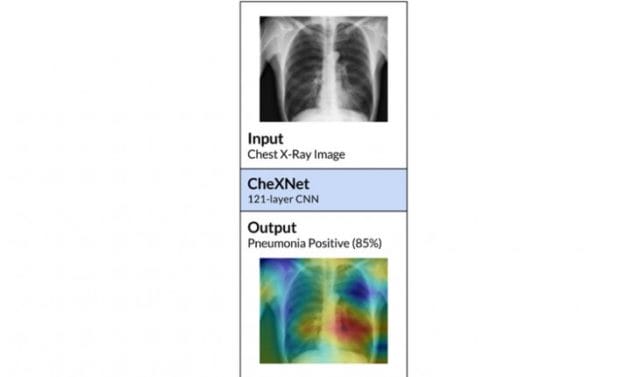 The team has been dedicated to machine learning projects in the future, a field that, according to them, has "massive potential".
From the visualization of the x-ray, calculate the level of probabilities of development of pneumonia in the patient, creating a heat map (as seen in the image above) indicating the areas that lead to that conclusion.
To make it work, they trained CheXNet with an incredible database obtained from NIH (National Institutes of Health), of 112,120 chest x-rays taken from more than 30,000 patients, including 14 different pathologies.
From there, they performed different methods and tests to focus on the detection of pneumonia. According to the data they have shared, the level of accuracy in the detection of pneumonia symptoms can equal or even exceed the performance (sensitivity and specificity) of radiologists.
We can read the technical details of this algorithm in this document that the Stanford researchers shared.
Machine learning algorithms are becoming a great help for doctors in detection of diseases at an early stage. Machine learning is a process that simulates human learning with computational efficiency. Recently, we also heard of one such algorithm that detects cancer at an early stage and now this one. Around million people die of Pneumonia every year and of that around 20000 deaths happen in India. This algorithm will definitely help to save lots life.