USB memory has long been the primary focus of malware spreading. Nowadays, malware is spread mainly through downloads on the web and since Google Chrome is the most used browser, what better than an extension for the same that serves as 'antimalware'.
Metadefender is an extension for Google Chrome that is responsible for scanning our files with up to 40 different antivirus. It supports files of any type, including compressed files, as long as it does not exceed 140MB in size. In the particular case of compressed files, it will extract and scan them individually.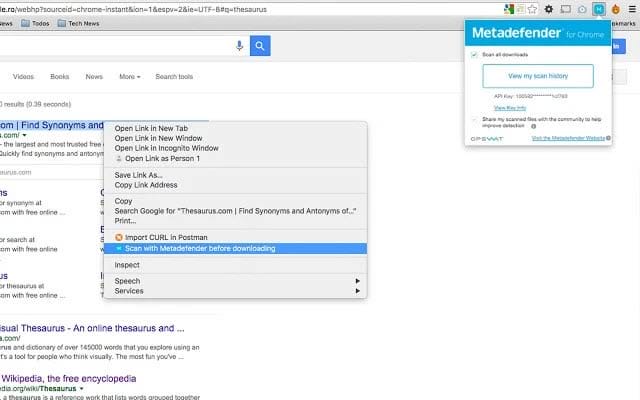 To start using Metadefender, all we have to do is go to this link to download the extension. Once installed, we should wait for a tab to be loaded showing the API key that has been generated for us and which Metadefender will use to connect to its servers; The extension will automatically copy the API key.
Then when we want to scan a file before downloading it, all you have to do is right click on the download link and choose the option "Scan with Metadefender before downloading". As soon as you start scanning the file, you will be sent to a screen where we will see the antivirus used and the results obtained.
However, there is one small drawback. It does not work with downloads that use javascripts to download the files. The links must be direct to the file so that Metadefender can work.
However, if you still want to scan a file before running it and you have already downloaded it, you can upload it to the cloud service provided by Metadefender. It works the same as the VirusTotal service, but with a higher file limit (VirusTotal is 128MB).