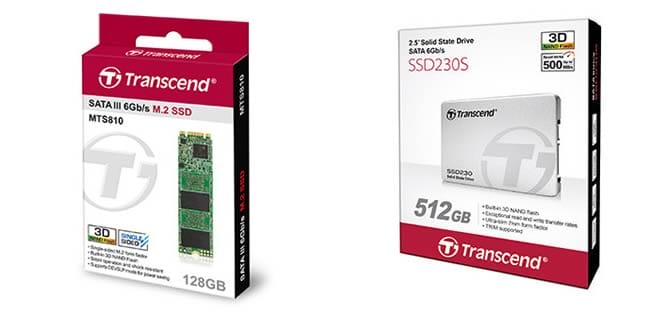 Storage systems specialist Transcend has announced the addition of four new families of NAND 3D flash memory based solid state devices. Four families including the two with mid-range devices and the other designed to provide maximum versatility and performance to the user.
The first two families are MTS810 and MTS420, mid-range SSDs that come exclusively in M.2 2280 and M.2 2242 formats respectively, in both cases linked to SATA 3 interface. The MTS810 is evolution of the previous MTS800 family launched in 2016, which is now equipped with NAND TLC 3D memory chips and a more compact controller manufactured by Silicon Motion. This unit is capable of delivering a sequential transfer rate of up to 560 MB / s, by capping the SATA 3 interface limit. The MTS420 is simply a miniaturization of the MTS 2242. Both families will be available only in 128 GB capacities, at least initially.
The third new family is the Transcend SSD230 Series, announced back in November of last year and has seen its delayed market release so far. In this case we are facing a family made in 2.5 inch format with 7 mm thickness, being compatible with ultrabooks and HTPCs, and will come in capacities of 128, 256 and 512 GB. In this, the speeds of up to 560 MB / s for reading and 520 MB / s for writing are offered.
Finally, we have the MTE850 Series family, the highest-end family. Here, they come in an M.2 2280 format with PCI-Express 3.0 x4 interface and NVMe 1.2 protocol. Available in 128, 256 and 512 GB capacities, these devices are capable of speeds of up to 2,500 MB / s for reading and 1,100 MB / s for writing, powered by a controller also of Silicon Motion and with memory chips NAND MLC 3D .
Price and availability
Transcend has announced these four new families of solid state devices but has not indicated either the launch date or prices. It is to be expected, however, that they would not take too long to reach the stores. On prices, it is understood that they will be in line with the market trend, with the MTS810, MTS420 and SSD230 families being relatively affordable. Hence, the MTE850 family rather more expensive to be PCI-Express NVD SSDs, although it is true that their theoretical performance places them far from the competition so its price should be in line with it.