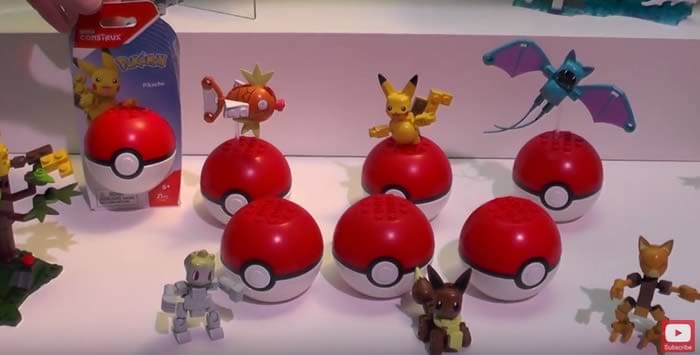 The phenomenon of the saga 'Pokémon' reaches everywhere. That is something that everyone is clear, thanks to the recent successes of the seventh generation of the saga and the release of 'Pokémon GO' on mobile. And now it reaches a new dimension by partnering with a leading toymaker in the West to bring to the world new toys made with blocks based on some of its most popular creatures of the first generation.
Thanks to a video of Family Gamer TV, we can see the first approach of Mega Bloks to the Nintendo franchise with what would be the first sets and mini-figures of some of the most beloved creatures of 'Pokémon Red Edition' and 'Pokémon Blue Edition' .
The sets for a first shipment of toys would focus on large reconstructions of about 300 pieces of Charizard and Gyarados, then the initial Pokémon faced in a combat arena and finally mini-figures inside Pokéballs of some classics like Pikachu, Abra or Magikarp.
The company Mega Bloks has focused in general on the construction of toys of different licenses through systems of union of blocks. They are the one of the main competitor of LEGO and also has sets of other video games like the saga 'Halo'. In the case of 'Pokémon' seems that they want to start with the oldest creatures and perhaps in the future dare to throw sets of generations, although the model of sales they seek to follow is not clear at the moment.
In this way Nintendo is introduced to the world of toy blocks. It is not the first time that fans are interested in seeing their most beloved franchises in this format, since there was already an approach with the saga 'The Legend of Zelda' to the LEGO brand. However at that time Nintendo was not interested in the project and claimed that the cost of producing a mold for Link's head would be too expensive.