A few hours ago, the Xiaomi Mi Max 2 has been announced at an official event in China. This is an important device of the company as the original Xiaomi Mi Max enjoyed a great popularity among lovers of large screens phone.
The Xiaomi Mi Max 2 does not incorporate big changes in the design. It now has a somewhat curved design and the antenna lines that were on the back before have been moved to the top and bottom thereby resulting in a rather clean design of the back, where also the fingerprint reader is placed.
On the front there are hardly any changes however the company now claims that the black edges around the screen are thinner. They have gone from 1.5 to 0.7 millimeters.
At the top we find a 3.5 mm connector, so you do not have to worry about getting a USB-C headset.
The Xiaomi Mi Max 2 comes with a Snapdragon 625 with 4 GB RAM and 64 GB of internal storage. There is also a model with 4 GB and 128 GB. Frankly, it's a bit disappointing to find a Snapdragon 625, when we were expecting a better chip, at least a Snapdragon 660.
The new phone features are 12 MP IMX386 Xiaomi Mi 6 sensors with a pixel size of 1.25um which guarantees good pictures. It also includes PDAF focus, dual tone LED flash and HDR.
The Mi Max 2 offers stereo speakers, which is an improvement over the simple Mi Max speaker.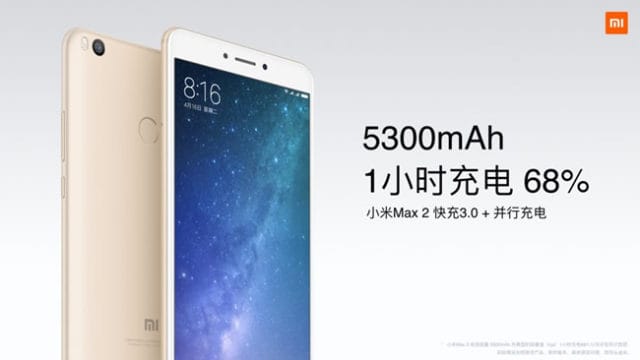 As for the battery, the Mi Max 2 comes with a gigantic battery of 5,300 mAh that offers 18 hours of video playback. Loading it is not a big problem since it is compatible with QuickCharge 3.0 and is loaded up to 68% in one hour.
Xiaomi has revealed that MIUI has improved to offer a better experience. It now incorporates a floating circle that can be used to open the most frequently used apps, and there are also other features like a one-way mode that will help when using your large 6.44 inches screen.
The Xiaomi Mi Max 2 comes at a price of 1699 Yuan (220 Euros or $ 247 USD) for the 4 GB with 64 GB version and 1999 Yuan (260 Euros or $ 290 USD) for the 4 GB with 128 GB version. It goes on sale on June 1st.