Xiaomi plans to add its native video screen recording application in the MIUI 8.
Although it is a function that is available through different applications in the official stores, video recording of what happens on the phone screen is not a native function in many phones, since the manufacturers do not usually give the necessary importance. Something that could now change in Xiaomi, with the development of a native application of video recording of the screen in MIUI 8, as we have known in recent days. This timing option is only available in Chinese ROMs.
MIUI 8 is the latest version of the Xioami software layer, introduced last May and will probably offer a new version this spring, as we have known in recent months about MIUI 9, at least in its beta version.
Video recording of the screen in MIUI 8
This is what has been announced in recent days by the Chinese firm in its forum, where it has anticipated this new video recording application in Xiaomi phone with MIUI 8. This application is under development, although some Lucky users can already enjoy it if they have the China Alpha ROM in the terminals Xiaomi Mi 3, Mi 4, Mi 5 and Mi Note based on Android 6 Marshmallow and 7, Nougat in which users will be able to go testing this new version and its different utilities , which Xiaomi has described in the announcement message of the new software.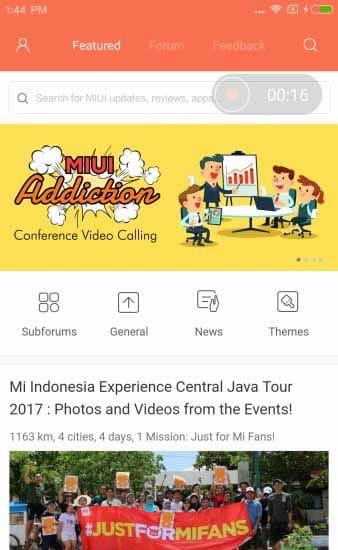 As Xiaomi says, this software will serve the users of the application to create tutorials, demonstrate how failures occur in the operating system and send them to Xiaomi, or also to record the best game games on the mobile, which is sure to be one of the Most popular features of this new application. As you can see in the images, this new app offers an interface with a fairly clean and simple, where recording what happens on the screen can be started quickly, adjusting parameters such as the resolution of the recording, the quality of this or the number of frames it will display per second.
As announced Xiaomi, after its passage through the Alpha of MIUI 8 the video recording application will reach the beta and finally to everyone. By the way, the China firm says that it will have a function never seen before in applications of this type.