Hey, folks daily you see multiple videos on different platforms and definitely, I can say that you too want to create such videos with your own photographs and video clips. If you wanna put some professional touch in your videos or you are a professional photographer and need a software for your business? There is various online software for satisfying your need  Animoto and Magisto two most popular names for creating videos. In short, both are cloud-based video making and editing tools. Here in Animoto vs Magisto, we will figure out their specialties.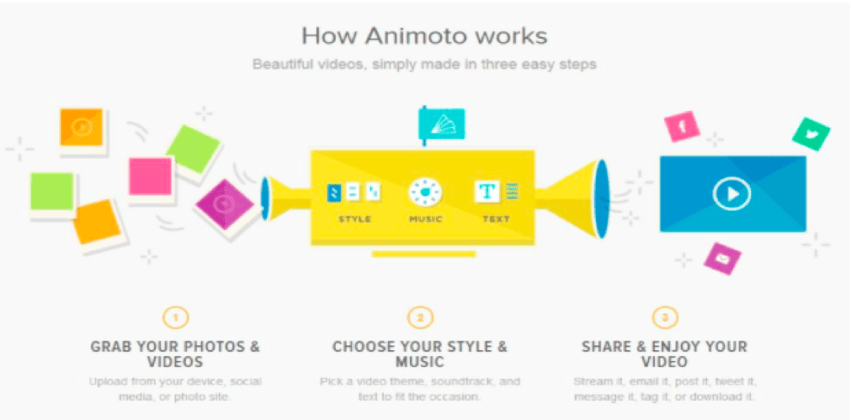 Best video editing software for Youtube
Animoto vs Magisto: Ease of use
According to the users, Animoto is more easy to use than Magisto. Animoto meets the user's needs more when compared with Magisto. So Animoto is the winner in terms of user interface.
Animoto vs Magisto: Price
Price is the topmost factor as everyone curious for their pocket. All the two image editor comes with a monthly subscription and there is a huge difference between their price. For Animoto, you have to pay $8/Mo for personal use where you get 720P videos in 3 standard fonts, $22/Mo for professional use and $34/Mo for business use. Whereas Magisto is free to use for consumers. The platform has 4 tiers: Consumer (FREE), Premium ($4.99/month), Professional ($9.99/month) and Business ($34.99/month). The consumer option is free and the other 3 offer more premium features geared toward businesses looking for a simple, scalable video marketing solution. Magisto also has yearly subscriptions.
How To Install & Use B612 Apk For Selfie Camera & Video Editor
Animoto vs Magisto: Overview
Magisto is the popular online video editor software and especially used for hassle-free video making. Whereas Animoto mostly used for making slideshows with videos and it is a cloud-based software. Basically, Magisto is for personal use but Animoto is for commercial and personal uses.
Animoto vs Magisto: Key Features
Both are equipped with different features so take a look below to be aware of them.
Animoto
Animoto allows you to crop, rotate and flip with its Photo Editor Feature. You can also adjust color, brightness, and sharpness of the video.
With Animoto, you can create up to 20 minutes video and also shorten them in the desired style.
Spotlight feature for highlighting particular photo or title.
Image pacing feature for commanding the speed of your video.
Make your video more attractive with multiple songs you can attach up to 10 songs in your video.
You can also share your video on your Facebook platform.
Magisto
With Magisto you can make wonderful music videos you can add your own music or from the music library of Magisto.
Magisto permits to share your video on all your social media platforms like Facebook, Instagram, Youtube, Google+, Twitter, Whatsapp etc.
Magisto comes with amazing video effects like Facial recognizations, Video filters, and smooth transitions.
With Magisto Premium, you can add up to 60 photos and 60 videos.
Numerous themes
You can also add logos and captions to make your video more attractive.
Magisto vs Animoto: Device Support
Magisto supports all android phones, iPhones, iPads and all the cloud-based devices. Similarly, Animoto also supports all android, and iOS devices. Both support the English language.
Final Verdict
Finally, you got to know the differences and key features of both video editors. While choosing a video editing software you must see your requirements first. You should go for Animoto if you want to use it for commercial purpose as Animoto allows you to make video slides for presentation. If you wanna use it for capturing personal movements then you can go for Magisto.
Still, any query regarding both software then comments below and also share your experiences if you have ever used any video editing software. Stay connected for more updates.