Few Years Back Dots was a very popular game available for android users. Continuing to its extended version, they have launched two dots game in the market. The game is available for both android and IOS users. Like other games, this game also consist of different levels and stages that you need to clear. You must like to have some cheats and codes of this game. Here in this article, we have shared the cheats and codes of the game that you can use to clear the different levels without losing your life.
There are also many puzzle games for android and ios device. Brain dots is also played by many users. You can also check other puzzle games for fun.
1. Restarting a Game Without Losing Life: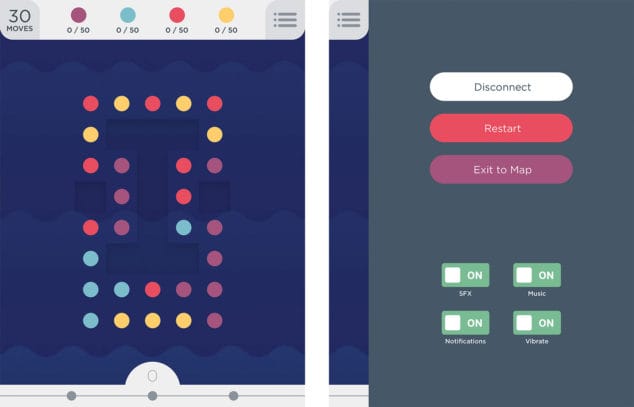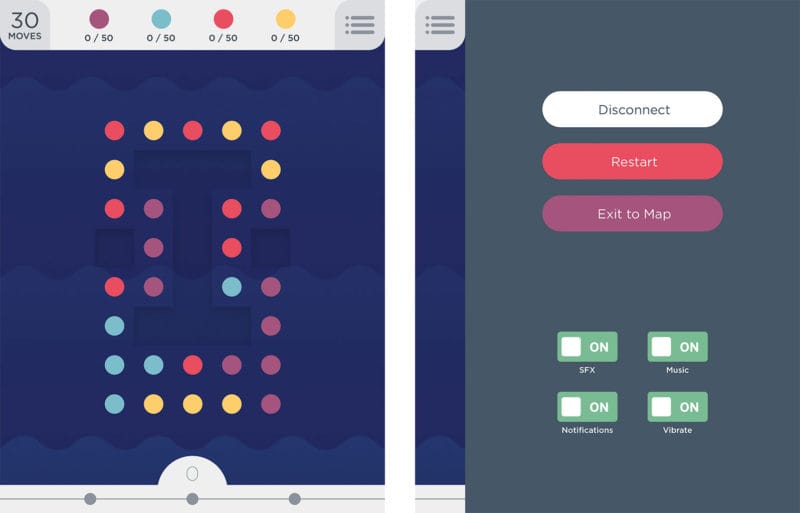 You can use this method to clear the level and quickly and easily and start the game with decent board. Not everytime this happened, but one can use this method to restart the game with the board of your choice without losing the life. The method is to do this before you try to make any move. It will return you to the map and you can repeat the process until you get the desired board of your choice.
2. Infinite Free Lives By Cheating Time:
Just like Candy Crush and other games, you get a live in particular interval of time that is 12 hours or 24 hours depending upon the game. Similarly in this game, you just need to adjust the time of your mobile clock and you can gain another extra live that you can use in the game further. All these games check the time by your mobile clock.
3. Play From The Bottom: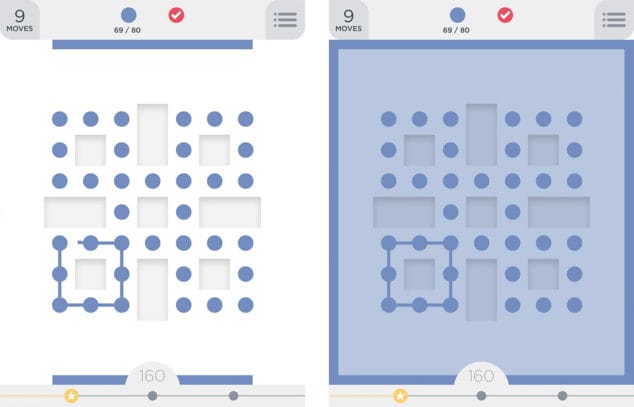 This rule is standard rule for almost all the board puzzle games. When you start playing from the bottom, you will get the new pieces on the board that happen in two dots as well. When you work from bottom, you will get the best odds of match and you can also bring the new dots down.
4. Your First Move: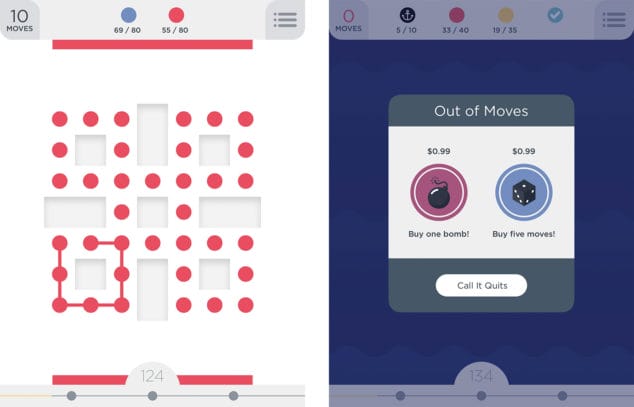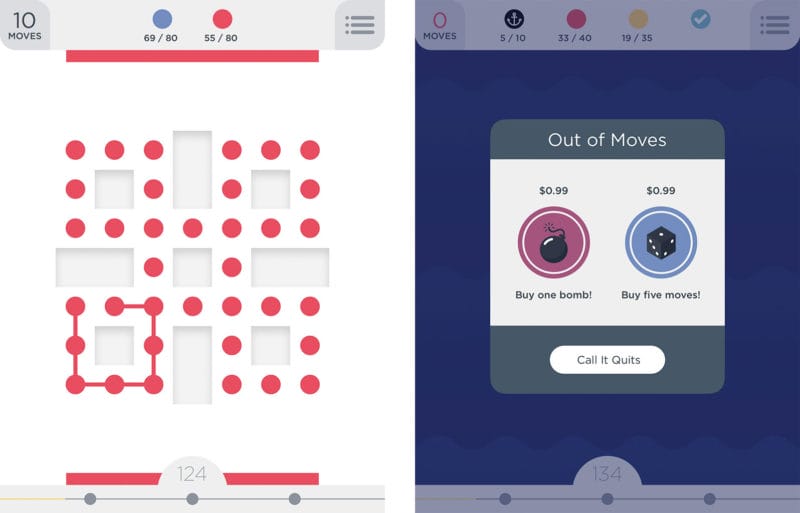 How you evaluate the board and how you take the first move set the tone and theme of entire game. Make sure that you avoid L and Z patterns. Also try to opt for Square patterns first and rectangles too.
5. Its Good to be a Square: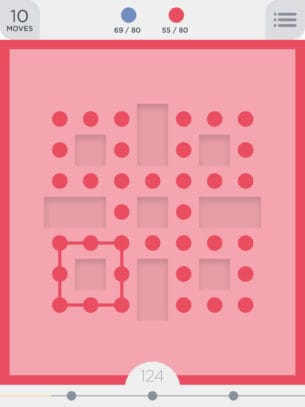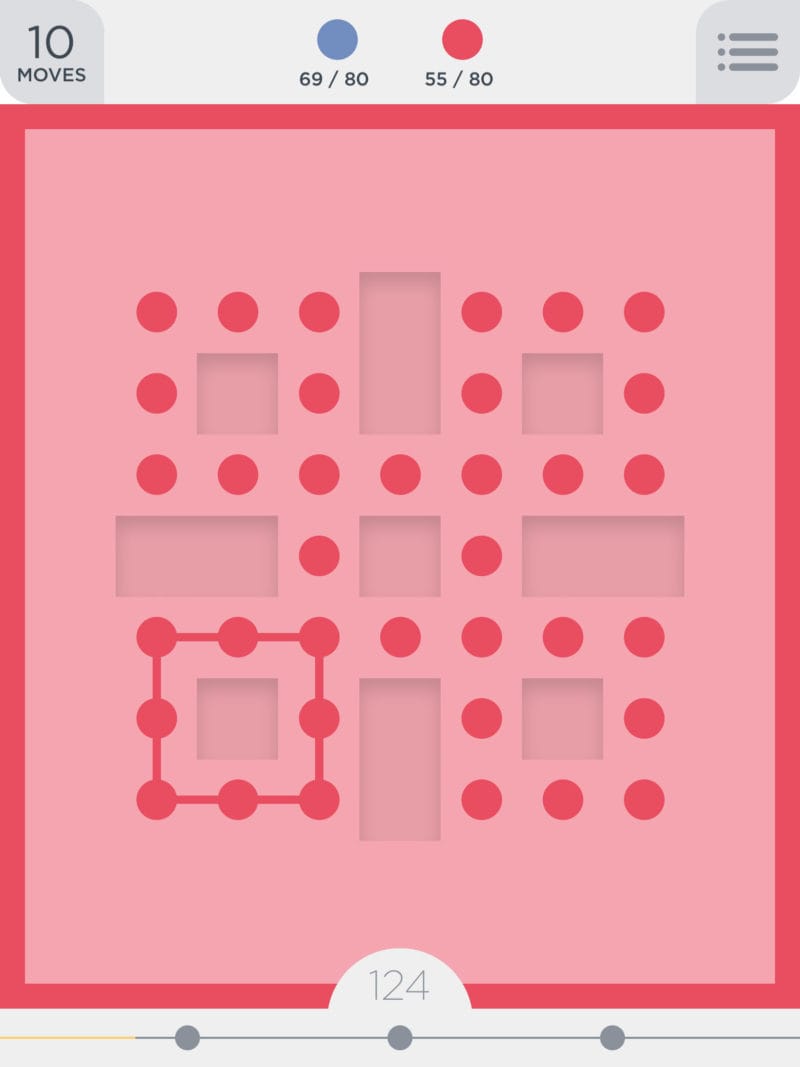 In colour dots, you do not need to start from square always, the thing that is prime is, which square you opt. Bigger the square more the score, Hence make sure that you opt for the largest square. Starting from the square is best move in most of cases but not in every case.
6. Use of Bombs in Game:
You need to make a bomb in the game to cross the level. Make sure that you create a square with one lonely dot in the center. With the help of bomb, you can destroy the dots belong to same color. This is one of the best strategy one can use for the anchors. This can save your time and moves further and can help you to proceed in the game further.
7. Behavior of Dots on Each Level: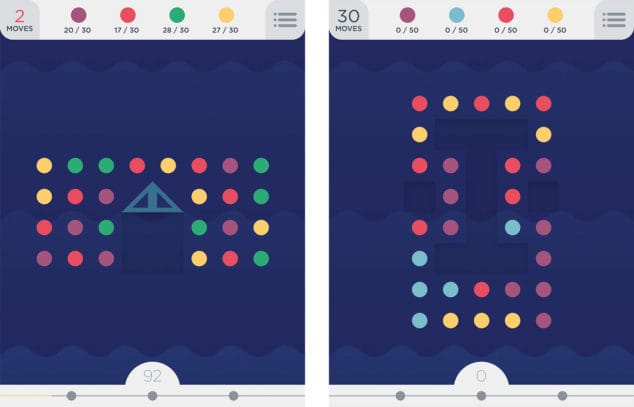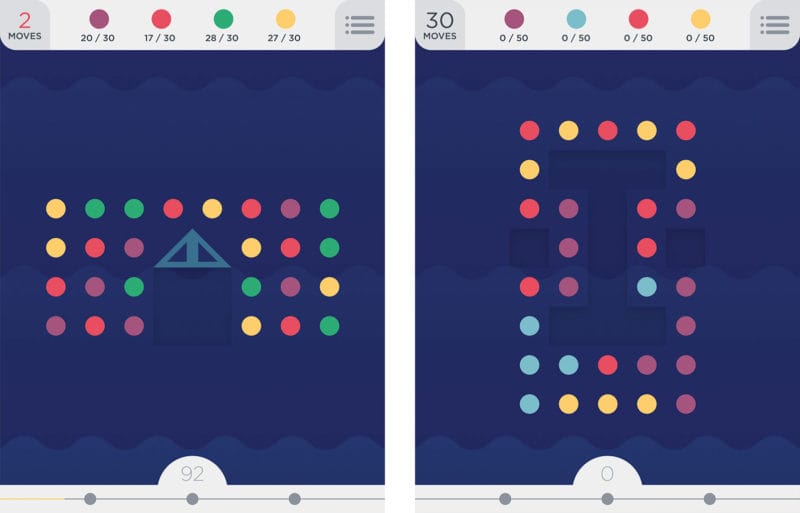 Now you need to observe the behavior of dots on each and every level. There are a lot of levels where paths are not straight down. In such situations, you need to check how dots are falling at each level and making a square. The ultimate goal of this game to win the match is to make bigger square of same color and vacant the spaces.
8. Isolating Single Colours under the Anchors: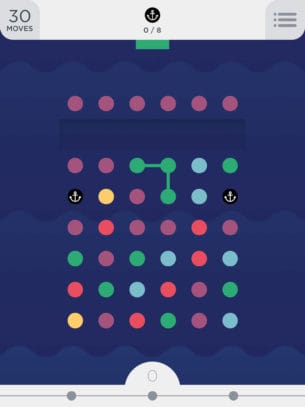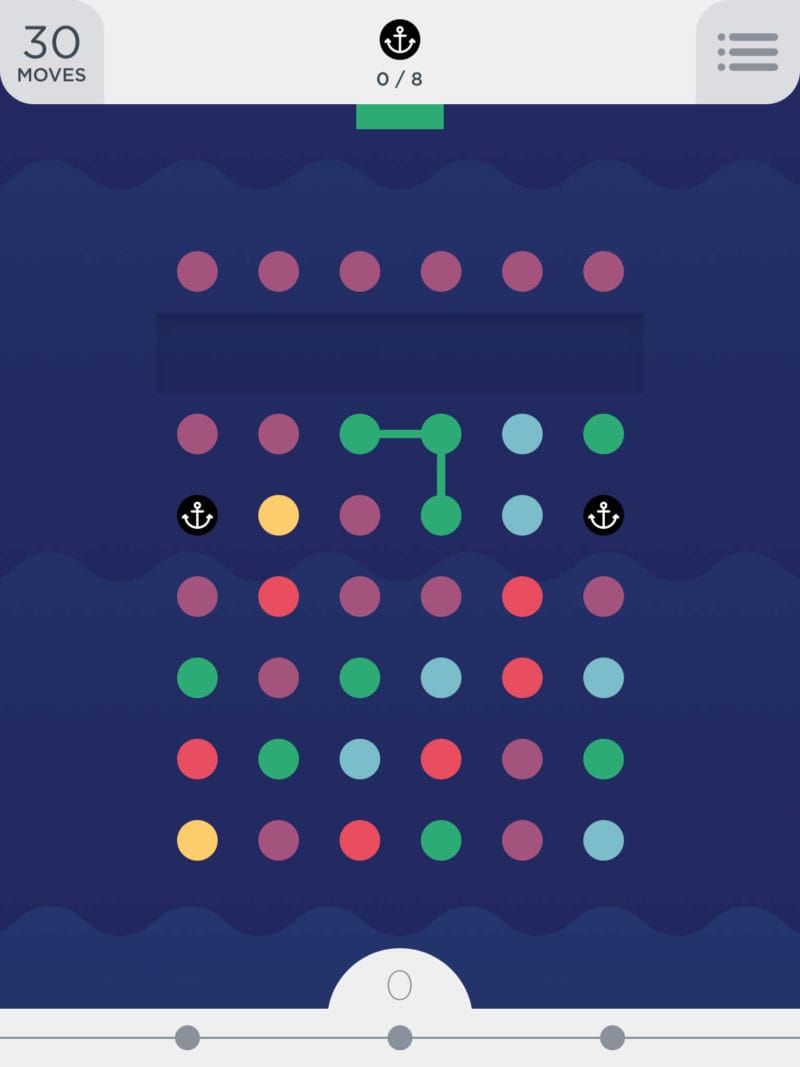 You need to make sure that none of dot left alone in the game. It is a worst case scenario. If you got stuck in some situation, you need to make sure that you create a square around it and clear it to cross the game at next level. It is also bit tough when you are short of moves. The best method to deal with this problem is to make sure that the dots are below the anchors.
9. Cause a Reshuffle Intentionally: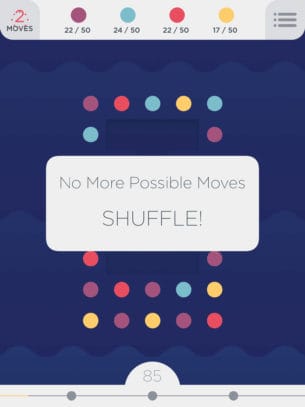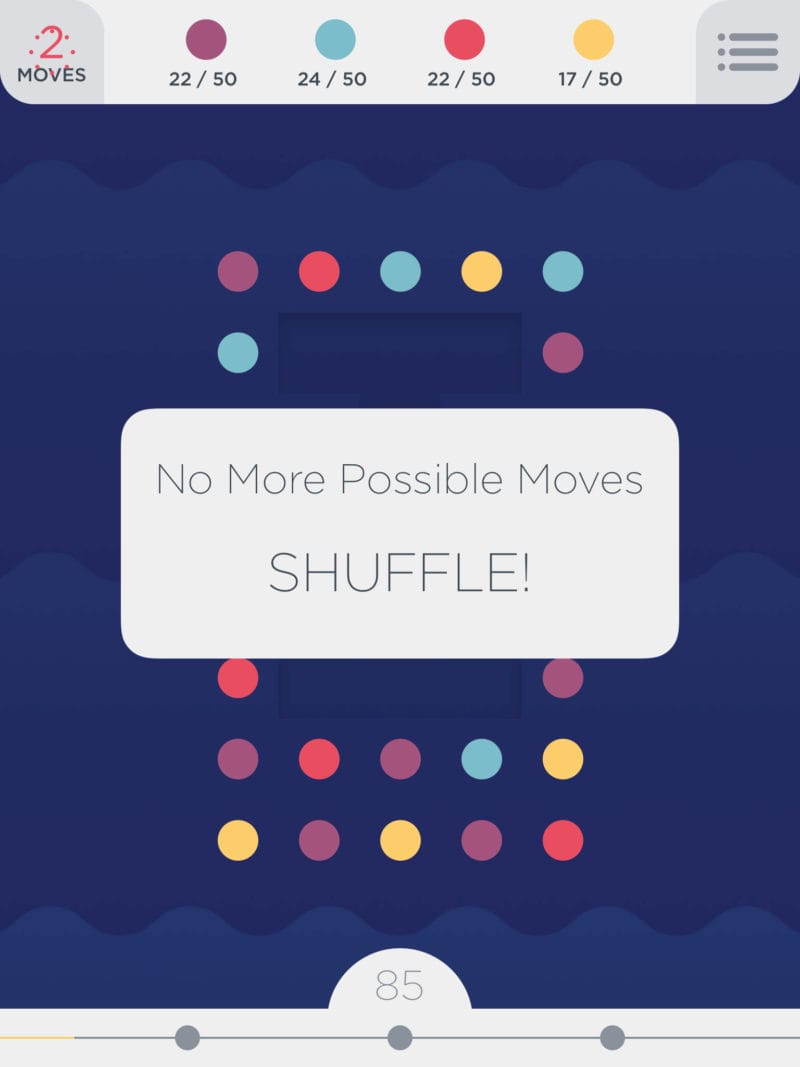 Reshuffling is not an option in this game but you can play little smart for the reshuffling. To reshuffle you need to plan the moves in such a way that it doesn't leave you any possible moves left. Now it will help you to reshuffle and that reshuffling can help you to get the desired board of your choice.
10. Keep an Eye out for sandwiched Dots: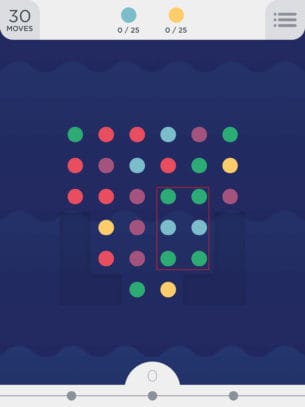 There are some patterns in the game you should always remember. The pattern of alternate dots is one of the best pattern to remember. e.g  If there are 4 dots 2 of red while 2 of green and at alternate positions, you need to switch them and make a possible square.
See More: Best 10 Android Games 2018
Final Words:
You have been provided with some tips and tricks that you can use to play the game. If you find some more smart moves to cross the levels without wasting the life, feel free to share them with us. We will surely add them in our article.